Spurs get passing grade, but need to be less passive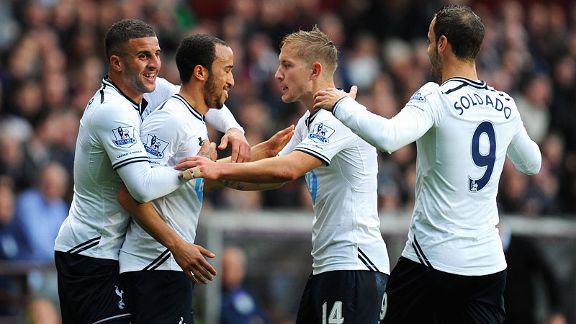 GettyImagesAndros Townsend is mobbed after his cross inadvertently gave Spurs the lead at Aston Villa.
Towards the end of Sunday's game, it felt like the good old times were back. Andros Townsend was giving Antonio Luna, the Villa left back, a game he would rather forget, beating him at will and setting up a handful of chances for himself and the rest of Spurs attack.

Aaron Lennon, back from injury, was stretching Villa out on the left and Spurs were cruising to a comfortable 2-0 win. Apart from one free header from Christian Benteke shortly after he had come on as sub, Villa barely mustered a worthwhile attack and never threatened a comeback once Roberto Soldado had put Spurs two up.

Yet Spurs were fairly poor for much of the first half. Andre Villas-Boas talks a good game about direct, incisive passing, but for all Spurs' possession the first 45 minutes, most of the passing was between the back four. There was no fluency going forward from midfield, as Villa found it all too easy to contain Spurs' attacking instincts.

Brewin: Townsend's star is rising

Spurs were just about worth the goal advantage at half-time, but it had been hard to see where one was likely to come from before Townsend's 31st-minute cross evaded Lewis Holtby and Soldado and went straight into the net.

AVB can point to the result, saying the ends justify the means; that Villa wore themselves out trying to negate Spurs' possession football in the first hour, leaving Spurs in total control and plenty of free spaces in the last 30 minutes. But that's half the story. The key change in the game came when Lennon replaced Sigurddsson.

Sigurdsson has many virtues -- including scoring some vital goals already this season -- but he doesn't have the pace of the style of a left winger: when he starts in that position, as he did on Sunday, Spurs have few genuine attacking options down the left-hand side.

Small wonder then that Spurs' tight passing game broke down so often in the first half; Villa knew that the only real threat was coming from Townsend and could double up on him.

When Lennon came on, Villa were enjoying their brief and only moment of dominance in the game: the crowd sensed something might be building for the home team and got behind them. Lennon changed that. Not because he was particularly great: he's still a little rusty after being out injured and it showed. He was a danger, merely because he was there.

Villa didn't dare attack so freely because they knew they could be caught out by the pace of both Lennon and Townsend. Nor could they put two men on each player. Having two wingers can be as effective a defensive move as it is an attacking one.

Credit to AVB for recognising the potential of using both wingers -- and for having a Plan B, something which some of us had begun to doubt -- but it would be a better option to start against Hull next weekend with Townsend and Lennon.

Hull will come to defend, and if Spurs try to work the ball through tight spaces in the middle of the ground rather than stretch them wide, it could play into the opposition's hands.

Lennon apart, though, it is beginning to look as if AVB is beginning to make a statement about what he thinks his best team is. This is not good news for Kyle Naughton or Ezekiel Fryers, both of whom have failed to impress when given a chance in Danny Rose's absence.

AVB would clearly rather play Jan Vertonghen in the centre of defence -- one senses that the Belgian would rather play there too -- but an out of position Vertonghen is a safer bet than the alternatives. Spurs still might regret loaning Benoit Assou-Ekotto to QPR.

Meanwhile, the sight of Sandro replacing Mousa Dembele alongside Paulinho has been long overdue. The Brazilian barely put a foot wrong all game and Dembele looked far more effective as a substitute than he does as a member of the starting XI. All Spurs need is a bit more fluency and self-belief. If Sunday's second-half display is the marker, then they have found a style that just might suit. When Christian Eriksen hits his stride, things could really begin to tick.

Remember this. Arsenal are top of the table and playing just about as well as they could expect. Spurs, with a tougher fixture list and plenty of room still for improvement, are just three points behind. The message from Sunday is clear. Tactical, possession football is a great starting point and should guarantee Spurs don't lose to bottom or mid-table teams. But if they want to beat the very best, Spurs have to be more fearless. Play wide, play free, play bold.