Spurs score at right times to see off Villa
We're just over a fifth into the season, and so far Spurs are keeping pace at the top, just three points off Arsenal and within a single point of the teams that might actually win something.

With their 2-0 victory over Aston Villa on Sunday, Tottenham have now accumulated more points away from home than at White Hart Lane. Come the end of the season that away form could make the difference between a top-four spot and another season of frustration.

Only the Goons have won more points on the road, and we all know that their current form has a lot to do with the fact that the fixture computer has given them the easiest schedule since Joe Louis took on the "Bum of the Month Club." (Google it, kids).

- Linesman hit by flare at Villa Park

It was another game in which Spurs didn't look great, but still managed to take the three points. Both of the goals came when the result looked to be at risk.

Tottenham were poor in the first half and struggling to create chances when Andros Townsend proved that absolutely nothing can go wrong in his life right now. A in-swinging cross from the right found its way into the net, as both Roberto Soldado and Lewis Holtby tried and failed to connect, confusing Brad Guzan in the opposition goal.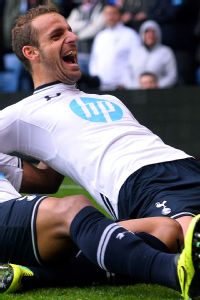 Paul Ellis/AFP/Getty ImagesRoberto Soldado celebrates his first goal for Spurs, which gave Tottenham a 2-0 lead on Villa.
The second strike was a killer blow just when Villa were really putting on the pressure and threatening to equalise. It was a goal that was not just vitally important in the context of the match, but also -- potentially -- the season.

Once again, Tottenham created a scoring chance by working in little triangles. Holtby combined with Paulinho and the Brazilian slipped in a perfect ball for Soldado, who came onto it at an angle. The finish was incredibly cool considering that the Spaniard has been under pressure of late.

I was impressed with Soldado's all-around performance. He started slowly but as the game went on he linked well with the attacking midfielders surrounding him. Hopefully this goal can be the catalyst for Soldado to justify his transfer fee, a reported 30 million euros.

Paulinho is already looking like money well-spent, especially when compared to the fees paid for Marouane Fellaini and Fernandinho. He had one of his best games for Spurs on Sunday and it was no coincidence that it came when he had Sandro alongside him, allowing him more freedom to attack.

Yet the best player on the pitch cost the club nothing at all. Townsend came into this match off the back of two great performances for England.

He often found himself double-marked in the first half as Gabby Agbonlahor tracked back to help Antonio Luna, but as the game wore on and Villa started to chase the game, Townsend found himself one-on-one with his full-back.

Townsend twisted Luna inside-out. He could have easily scored another and also created plenty of chances for his colleagues. Townsend really is a nightmare for his markers, equally able to go inside or out, and capable of using both feet.

His performance allowed the travelling support to give him a nice accolade. "Andros Townsend ... Andros Townsend ... He was born to play for Spurs" they sang. They used to sing that song for Gareth Bale. Football fans don't take much time to move on.

This was an important game to win. Arsenal, Chelsea and Manchester City had all won, while there was the opportunity to gain ground on Liverpool and widen the gap over Manchester United.

Most important, the team bounced back from that wretched 3-0 defeat to West Ham. Andre Villas-Boas made four changes from that game, with the replacements -- Vlad Chiriches, Sandro, Holtby and Soldado -- all doing relatively well.

As Tottenham enter a period in which they play six games in the next 21 days, there will be plenty of opportunities for those left out today to shine.

The international breaks have disrupted the start of the season, but there is now the opportunity for the team to settle down and build up some momentum. This was a promising start on that journey.