Birthday boy Villas-Boas deserves fans' patience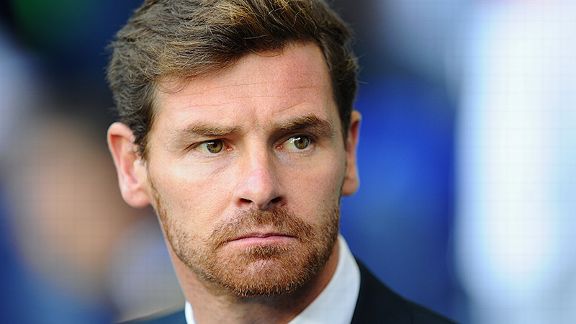 Mike Hewitt/Getty ImagesTottenham manager Andre Villas-Boas hopes to celebrate his birthday belatedly with a win at Aston Villa this weekend.
Thursday is Andre Villas-Boas' 36th birthday. I celebrate this fact because as someone who is already 36, it makes me feel slightly less old when our ages are aligned.

Most football fans remember the first player to turn out for their team who was younger than them -- mine was Rory Allen. If you're still harbouring dreams of one day turning out for your heroes, the day when a younger player beats you to it is when that dream should finally be put to bed.

- Crace: Three into one a no go

So those of you who are blissfully sitting in the 35-and-under age bracket, imagine for a minute how old it makes you feel when the team manager is someone that you would have been able to bully at school. Suddenly, playing Football Manager seems a facile waste of my time.

When you think about Villas-Boas and how remarkably young he is, it puts a lot of things in perspective.

Earlier this week I wrote about how AVB could learn from Alex Ferguson when it came to squad rotation. What I didn't add was that Ferguson has had almost twice as long on the planet to figure things out.

We should also never forget that Villas-Boas had no playing career before he became a manager. Most new bosses have spent years as a player learning what to do -- and what not to -- from the various managers they have worked under.

AVB missed out on this education. Aside from a brief spell in charge of the British Virgin Islands aged 21, his managerial career only really began in 2009, when he was appointed head coach of Academica. Prior to that, Villas-Boas was not much more than a glorified scout under Jose Mourinho. Their falling out stemmed from AVB's desire to become more involved in the coaching of players at Inter Milan.

Villas-Boas had studied as a student of the game, but as recently as four years ago, he had relatively little experience as a teacher of football. Taking this into account, his ascent has been as remarkable as it's been rapid.

Is it any wonder then that mistakes have been made along the way? Villas-Boas is not just an inexperienced manager, he is an inexperienced man. His failure to get to grips with a Chelsea dressing room containing many players who were his contemporaries, was an understandable one.

There has been much for AVB to learn in a short period of time. As you would expect, it's a work in progress and hard lessons are being learned. Villas-Boas has and continues to make mistakes at Tottenham: Kyle Naughton gets picked at left-back. Tactical errors are made and left unaddressed until it's too late.

As fans, we moan because supporting a football team is anything but rational. Anything but considered. Yet it we take a moment to reflect, on this, the birthday of Villas-Boas, then it becomes clear that here is a manager who deserves the most patience that we can muster.

What he's done so far in his short career is uniquely brilliant. What's even better news is that he can only get better.

AVB might be the one who is celebrating the birthday, however, it is his young age that serves as a present to every Spurs fan on this day.