Townsend, Lennon and Lamela: Three into one won't go for Spurs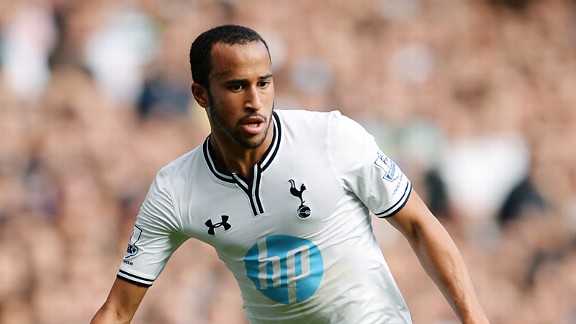 Michael Regan/Getty ImagesAndros Townsend has gone from hopeful to undroppable.
Problems, problems. The Montenegro and Poland back fours are unlikely to be the strongest Andros Townsend comes up against this year, but take nothing away from the Tottenham wide man; he was given his chance, and he took it. After a desperate display away to Ukraine only a month ago, which would probably have remained goalless even if both teams had continued playing for another week, Townsend's inclusion for the last two World Cup qualifiers gave England an attacking edge. He scored against Montenegro; he hit the crossbar against Poland, and his willingness to take on defenders time and time again created numerous openings for his colleagues.

Townsend's performances for England have come as little surprise to those who have seen him play for Spurs this season. He has been a transformed player since his return from a period on loan to QPR last season. At times he has been frustrating, especially in his eagerness to shoot from distance rather than pass. But these are early days in the second, more mature, phase of his career and he should get the balance right sooner rather than later. He doesn't need to be the new Gareth Bale to win over the White Hart Lane crowd.

- Smith: Does international success mean stardom?

What the past few days have done for Townsend -- apart from showing he has a big-match temperament -- is to introduce his talent to a whole range of football writers and fans who have been rather slower to pick up on his talents. This actually makes a big difference, both to Townsend and Spurs. For Townsend, the benefits are tangible. Aside from the increased recognition and self-belief, the player's agent has reportedly entered negotiations to quadruple his weekly earnings from £10,000 to £40,000. He shouldn't starve on that money.

Townsend's successful introduction to the national side gives Spurs a few problems. High-class problems, admittedly. When Aaron Lennon returns to fitness -- and we are led to believe he is not far off it -- Spurs will have three players vying to fill one place wide on the right. Lennon, Townsend and Erik Lamela. Four, if you count Nacer Chadli, who has done the odd stint on the right. Something has to give.

When Lennon first picked up his injury, everyone assumed Townsend was just filling in, until either Lennon recovered or Lamela settled into the demands of the Premier League. That Townsend did rather better than anyone expected was a fortuitous bonus.

If his Spurs' form has made him a difficult player for Andre Villas-Boas to drop, Townsend's international success has made it doubly so. Eyebrows won't just be raised around White Hart Lane if Townsend is demoted to the bench, they will be raised all over the country. Which leaves AVB with a bit of a dilemma. How long can he afford to leave a fit Lennon and Lamela out of the side? Lennon, like Jermain Defoe, will be eager to press his credentials since places for the World Cup in Rio are up for grabs at the end of the season. Nor did Lamela come from Roma for a club-record fee to play keepy-uppies during the halftime interval.

The dilemma is this: AVB has a clear game plan, with a formation and style of play to fit, but he also needs to keep his squad happy. A few players sulking on the training ground can destroy morale every bit as much as a couple of defeats. So AVB needs to find a way of adapting, of being more flexible than he might otherwise be inclined to be. He needs also to show faith in his team -- that sometimes they can be trusted to find their own way to win games if his way isn't working.

One possibility comes immediately to mind. Play Lennon and Townsend in the same team. One on the right, one on the left, and switch them over as needed. The left side might not be either player's ideal starting position, but better to start than be left on the bench.

Furthermore, in recent years Spurs have often looked at their best when playing with two wingers. Opposing defences can double up on one winger, but they dare not do so on two as it leaves them dangerously exposed. Since turning possession into goals has been Spurs' main fault line this season, putting Townsend and Lennon into the same starting XI has to be an experiment worth trying.

This doesn't answer the question of what to do about Lamela, of course. But if Lennon isn't fit, AVB could do a lot worse than playing Townsend and Lamela against Villa on Sunday. Mind you, if that combination does work, then AVB will have an even bigger headache when Lennon returns.