AVB should adopt Fergie's rotation methodology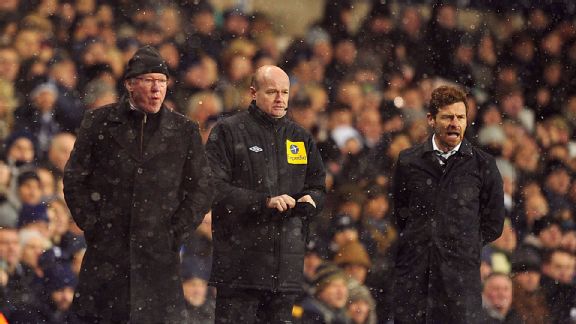 AP PhotoTottenham supporters would like to see manager Andre Villas-Boas take a page out of Sir Alex Ferguson's squad rotation book.
When it comes to the lessons of football management, it makes sense to learn from the best. Until very recently in this modern era, that man was Alex Ferguson. Having spent so long as manager of Manchester United, the Scot had to adapt to a lot of changes in football's landscape.

One such change was the move to clubs building squads so deep and full of quality that there remained no recognisable first team. As the physical demands placed on footballers grew, top clubs had to rotate their players to keep the squad fresh enough to challenge for honours at the end of a long season.

No manager was more adept at this art than Ferguson. In his later years at Old Trafford, he rarely if ever picked the same team twice. Embracing statistical data, Ferguson made sure his stars weren't overworked. Equally important was the number of miles travelled by a player in a season, especially for squad members hailing from South America or Asia.

Last season definitely saw an improvement at Tottenham in terms of squad rotation from the days when Harry Redknapp would pick the same side every week and run it into the ground. Yet I still feel that Andre Villas-Boas has a lot to learn from Ferguson.

- Report: Dawson delighted with new deal

So far this season, it very much feels like Spurs have a first team and a second-string side for the cups. With the quality that is now available throughout the squad, it shouldn't be that way.

There have been changes with the side that has played in the Premier League, but that has been dictated largely by injury rather than form. Jermain Defoe's inclusion at the expense of Roberto Soldado against West Ham is the obvious exception.

It's not sustainable without players becoming unhappy. Sandro has looked very good when he has played but has yet to get a start in the Premier League. AVB has remained too loyal to Paulinho and Moussa Dembele -- a pairing whose form has been more solid than spectacular.

Lewis Holtby is another who deserves a chance to start in the league. It's really shouldn't be a question of form, though. If you have faith in your squad of players, you should constantly alter the personnel on a match-to-match basis.

Ferguson would routinely leave out players who were playing brilliantly to give them a rest. On the whole they didn't complain because they knew they were playing for a successful club. If Tottenham can remain in the mix at the top of the league, no one will kick up a fuss as long as they all regularly see some minutes.

Of course, the difference at Manchester United is that they play in the Champions League every season, while Spurs are currently facing poor opposition in the Europa League, for which they have to make long journeys to every away game. It's hard to pick a player for a Thursday night in Moscow knowing that you also want to him turn out in London on Sunday.

There is also the fact that the club have signed so many new players in the summer. It feels like Villas-Boas is trying to pace their introduction to the side gradually. I'm sure he'd prefer to play Jan Vertonghen rather than Kyle Naughton at left-back right now, but with Younes Kaboul injured, perhaps he thinks it's too soon for Vlad Chiriches to make his Premier League bow.

So as the season rolls on, we'll hopefully see AVB become more adventurous with his tinkering and use the full depth of his squad. There are a lot of very good players at Tottenham who have had minimal opportunities in the Premier League, for a variety of reasons.

Spurs may have two teams' worth of players, but Villas-Boas needs to let them start playing together sooner rather than later.