Redknapp revelations bring perspective to AVB criticism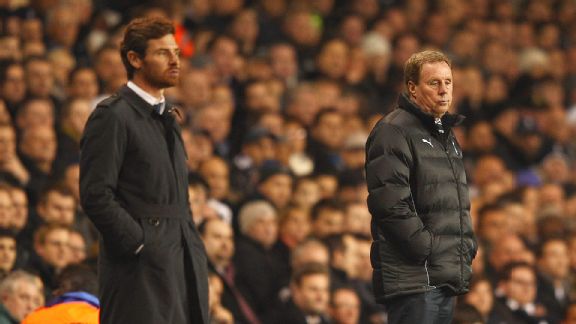 Richard Heathcote/Getty ImagesAndre Villas-Boas, left, succeeded Harry Redknapp, right, as manager of Tottenham.
Harry Redknapp has been hard to avoid this week, with his autobiography just published and his QPR team lying second in the Championship. As the author of Redknapp's unauthorised biography, "Harry's Games: Inside the Mind of Harry Redknapp," a book that took a more objective look at Redknapp's career, I've enjoyed his performances more than most. Listening to him tell a national radio station's main morning news programme how much he admired Roy Hodgson and how he was a great choice of England manager, after his own book had devoted nearly a chapter to saying how Hodgson had been the FA's safe, compromised choice and that he, Redknapp, would have done a much better job, was a particular highlight.

For what it's worth, I reckon Redknapp's self-assessment on this point in the book was spot-on. He would have been a better England manager than Hodgson. But that's Redknapp all over: says one thing one day, another thing the next and relies on his charm to pull him through. In his book, he also claimed that Gareth Bale's development had been all down to him. That's pushing it. Redknapp did get Bale to toughen up and play through minor knocks while choosing to play him higher up the field, but Bale really came into his own under Andre Villas-Boas, who gave him freedom to play through the middle rather than stick to either wing.

- Report: Redknapp: "Bale's hair drove me mad"

Redknapp doesn't just trade on his charm and humour, though. He also trades on the collective amnesia of football fans and football writers. Because he is rarely held accountable for his track record, he has full licence to rewrite it to suit his own narrative. But this week, it hasn't just been Redknapp doing the rewriting. With no Premier League football to look forward to this weekend because of the World Cup international break, fans have had longer to reflect on last Sunday's heavy defeat to West Ham.

Check out the Spurs online forums and you will see the true fickleness of some football supporters. Where last week Spurs fans were enjoying being second in the Premiership and top of their Europa League group, this week many loyal voices are now saying that they'd always had their doubts about AVB, and that we'd actually be better off if we still had Redknapp. "Harry would have made sure we didn't lose to West Ham like that," one fan said to me. Oh, really? I can remember some fairly dismal home performances against the likes of Wigan, West Brom and Stoke under Redknapp.

This is not to say that AVB or Spurs are the finished article. Far from it. AVB needs to be less dogmatic in his tactics and allow the players more creativity; there comes a time in most games when a team has to play with less head and more heart. At times, Spurs are too predictable, making it easy for opponents to defend against them. The players also have to shape up a bit. They can't just rely on their reputations -- they have to earn them.

But let's not also forget their weaknesses under Redknapp: his teams never had a Plan B; their tendency was to repeat the same mistakes and hope for a different result. Redknapp also had his favourites, which was great at the beginning of the season when everyone was fit and not tired. But come February, Redknapp's teams almost invariably faded. He did not understand squad rotation; when he was forced to make changes, the players who were brought in usually struggled. Partly because they weren't used to playing week in and week out, and partly because they knew the manager didn't really rate them.

The West Ham game was a rude awakening, but players and fans must keep their perspective. There's a harmony, sense of direction and professionalism about the club that just wasn't there under Redknapp. The club has moved on. Think about it. When Redknapp was sacked, most fans were terrified someone such as Mark Hughes would be appointed in his place. Whoever we get after AVB, we know it's not going to be a Hughes. We've moved forward. Sure, some trust is involved. And sure, Spurs and AVB will almost certainly let us down again sometime before Christmas, but the league is played over nine months and is won on the balance of probabilities, rather than flashes of genius. Come the business end of the season, I know which of either Redknapp or AVB I would rather have managing the team.

Now is the time to hold your nerve.