Five things Tottenham learned the hard way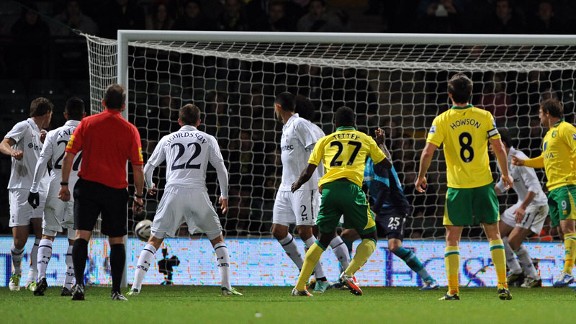 APAlexander Tettey (27) fires home Norwich's equaliser against Spurs
1. Sometimes you don't get what you deserve, or do you?

There are two ways to look at Tottenham's 2-1 defeat to Norwich on Wednesday night. The first is the positive spin. Spurs were by far the better side and were en-course to win the game until an unlucky own goal and a winner from a free kick that should never have been given, turned the match on its head. These things happen.

- Bunn the hero as Canaries progress
- Blog: Revitalised Norwich upset the odds

The second viewpoint sees Spurs being a bit harder on themselves. Yes, Tottenham were the better side, but couldn't convert that pressure into meaningful chances and the opportunities Tottenham did make were largely wasted. Spurs didn't put the game to bed and when Norwich went for broke, Tottenham were appropriately punished. You make your own luck in this game.

So which is it then? Glass half full or half empty? On Wednesday night I was erring towards the former, while in the light of day I find myself on the side of the latter. Spurs should have won the game comfortably, but instead they're out of the competition. Better to take responsibility and learn from your mistakes than to shrug your shoulders.

2. Spurs were hasty in selling Van der Vaart

I didn't want Rafael van der Vaart to leave in the summer, but I could see the logic behind the sale. Tottenham got a decent fee for a player who was approaching 30, rarely finished a game and might not fit into the new manager's long-term tactical vision.

The signing of Gylfi Sigurdsson also made VDV seem surplus to requirements. For roughly the same fee as Tottenham received for Van der Vaart, the club had purchased a player who had enjoyed an excellent loan spell at Swansea and was much younger to boot.

However, it's just not happening for Sigurdsson at Spurs and on Wednesday he was once again anonymous. Say what you like about Van der Vaart but he was never that. The Dutchman exuded confidence in all that he did, Sigurdsson seems to have left his in Swansea.

3. Clint Dempsey is not a striker

The fact that Tottenham signed Clint Dempsey so late in the transfer window suggests that he was well down the pecking order on our shopping list. Essentially, Tottenham found themselves with only two senior strikers and got someone in who could fill a gap.

Dempsey can do a job as a striker but it's not his best position. His versatility is useful to Spurs, but I wonder if long-term it will be detrimental to his Tottenham career. If he's constantly being shuffled around then it doesn't make it easier for him to nail a spot.

Like Steven Pienaar, I can't help but think that Dempsey's stay at Spurs might be a short one. Stop-gaps are by definition eventually replaced.

And please. No more penalties.

4. Spurs' best form of defence is attack

The game needed Jermain Defoe. That would have been the bold substitution to make when Tottenham were 1-0 up.

Instead AVB made another negative substitution when Spurs only had a 1-0 lead, replacing the impressive Tom Carroll with Jan Vertonghen. The result was that Tottenham sat too deep and conceded two late goals, the first deflected in by Vertonghen when it was going wide.

Villas-Boas explained that he brought Vertonghen on to combat the aerial threat posed by Grant Holt. Surely that threat would have been best averted by getting the ball down their end of the pitch?

5. Lloris should be the first choice goalkeeper

I've been arguing that it makes sense to be decisive and give Hugo Lloris the regular starting spot now, on the basis that chopping and changing only puts added pressure on the French captain.

Well how about this argument - Lloris is a better goalkeeper than Brad Friedel. I've got nothing but respect for the American but Lloris commands his area better, is more athletic and looks every inch a leader.

It was an impressive display from Lloris. Good enough to see him start over Friedel when Tottenham face Wigan?