Why Spurs need Adebayor as their Plan B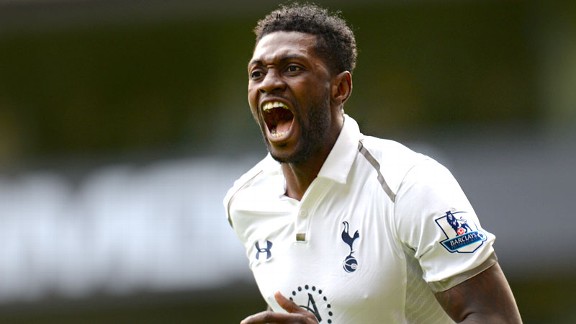 Shaun Botterill/Getty ImagesDespite his flaws, Emmanuel Adebayor is still valuable to Spurs.
I'm about to write some words that I wish I didn't have to: Tottenham need Emmanuel Adebayor.

Last season, I wrote of my hope that Spurs would never pick Adebayor again, such was my frustration at his general lack of effort.

Every now and again, he would show his worth, and it only served to annoy me more. Adebayor tore apart Chelsea at Stamford Bridge; why couldn't he apply himself like that every week?

For this is a player whose talent is not at question. A committed Adebayor would be a major asset to any side in the Premier League. Getting him into that frame of mind is a challenge that has eluded many top managers.

Andre Villas-Boas obviously thinks it's a challenge beyond him and was clearly prepared to let Adebayor leave this summer. Yet it doesn't serve a manager to be anything other than pragmatic. AVB might not think that Adebayor has any long-term future at the club, but while the player is drawing a six-figure salary, he might as well use him.

The reasons it makes sense are twofold. First, if Tottenham intend to persuade anyone to take Adebayor's weighty salary off the wage bill, then it will be a lot easier if it can be seen that he's playing well.

Second, the team actually needs him. Currently Spurs have no Plan B. If Roberto Soldado is not looking effective, the only option is to bring on Jermain Defoe. Both players are poachers -- a straight swap that does little to change the dynamics of the team.

On a couple of desperate occasions, they have been paired together. This is a partnership that will only ever exist as a concept. Defoe has never been part of a truly effective duo at Tottenham, despite being paired with strikers as talented and varied as Robbie Keane, Dimitar Berbatov and Peter Crouch.

The idea Defoe is going to start linking up with a player with such a similar outlook seems optimistic. Spurs need an alternative, and Adebayor, for all his faults, offers that.

While Soldado and Defoe prowl the width of the penalty box, Adebayor is more inclined to find space on the flanks. This trait has frustrated the White Hart Lane crowd when he's played as a lone striker, but in a strike partnership, it's a habit that makes a lot more sense.

Then there's his physicality. Adebayor holds the ball up well, which is something that Soldado is currently struggling with and Defoe always has. Adebayor would bring height to an attack that lacks it.

Adebayor is also an unselfish player, which is a good job considering that his finishing leaves a lot to be desired. If he was brought on alongside Soldado, you could imagine him creating chances for a striker who has cut an isolated figure since joining this summer.

A return to a 4-4-2 formation isn't a long-term answer in a league where most teams pack the midfield, but it's still effective when chasing the game or playing weak opposition.

This season has also seen the likes of Liverpool, Aston Villa and Everton playing with a back-three, allowing them to get numbers into the midfield while also employing more than one attacker up front.

I'm not suggesting that Adebayor should be made the linchpin of the team, just that he's worth a place on the bench.

The question is whether Villas-Boas has such an issue with Adebayor that he thinks it's better to weaken the squad to prove a point. When you consider that Benoit Assou-Ekotto has been allowed to leave on loan, it's an option that shouldn't be discounted.

You never know what you're going to get with Adebayor. It's perhaps fitting then that, even at this advanced stage of his career (he's 29), his future is still up for debate.