West Ham win their cup final against lamentable Spurs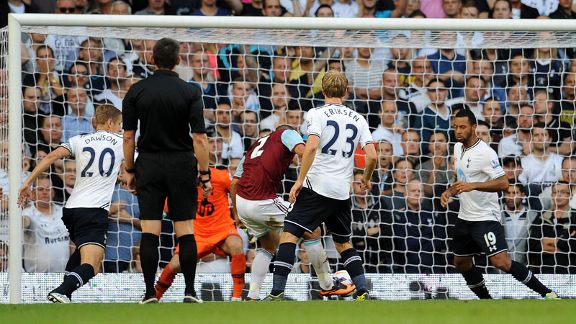 PA PhotosWinston Reid puts West Ham in front against Tottenham.
LONDON -- West Ham effectively just won the Champions League, World Cup and the Super Bowl.

This is a team that haven't won a trophy since 1980 and are unlikely to finish in the top half of the Premier League. Beating Spurs away, and 3-0 to boot, is as good as it gets for West Ham.

It's at times like these that I'm thankful that I work from home and can just lock myself in my cellar on Monday to absolutely guarantee that I'll have no contact with any West Ham fans. Every other Spurs supporter in London who has to actually leave the house to go to work in an office, factory or shop, will not be so lucky.

- Three things: Tottenham vs. West Ham

I had a feeling that things would not run smoothly when I entered the stadium to find that Jermain Defoe was starting up front. There's been something of a mini-campaign for Defoe to replace Roberto Soldado, but I thought that Andre Villas-Boas would know better.

You could make an argument for Defoe starting. The only problem was that it was an ill-thought-out one. Yes, he's scored plenty of goals against sub-standard teams, but unfortunately this is one of the few seasons in recent memory when West Ham haven't had a terrible defence.

Sunday showed exactly what Soldado brings to the team even when he's not playing well. His movement creates space for others and with that comes chances. In contrast, Defoe is a static player who only comes alive when he's fed the ball.

Defoe obviously loves the club and that's something to cherish, but the truth is that playing in the Europa League and the Capital One Cup is his level. There's a reason he's never been a first-choice pick for the many managers who have come and gone during his time at White Hart Lane. Defoe has never been and never will be "the answer."

While Tottenham wrestled with their striking problems, West Ham had an inventive answer to the fact they don't have any decent forwards. They simply chose not to play one.

That allowed them to flood the midfield and it's perhaps not a surprise that as a result the likes of Christian Eriksen and Gylfi Sigurdsson were nullified.

Of Tottenham's attacking midfielders, only Andros Townsend shone. It seems that someone has had a word with him since that game against Cardiff. Instead of shooting at every opportunity, he attacked the full back on the outside and delivered crosses with his right foot. The only problem was that they all flew over the head of the diminutive Defoe.

Further back, Paulinho and Mousa Dembele had poor games. This was a match in which Spurs were crying out for more invention and really didn't need two water-carriers. Lewis Holtby might have made a difference in a deeper role.

It was ultimately a bad day at the office from the whole team, yet I still thought that Tottenham might nick a 1-0 victory until the Hammers broke the deadlock.

On another day they might have. West Ham hadn't threatened much more than Spurs (basically not at all) but got lucky twice. From a corner, Winston Reid's header hit his own player and bounced back perfectly for him to knock it into the net.

The second goal saw Ricardo Vaz Te shoot straight at Hugo Lloris, only for the ball to ricochet back off his knee and over the line.

Luck could not be claimed as a factor in West Ham's third goal, though. Ravel Morrison showed great strength and pace to work his way through the Tottenham defence and then produced a deft finish. They've got a player there.

That final kick in the teeth capped a poor day all round for Spurs fans -- as one home supporter appeared to be arrested at halftime for using the Y-word.

- Crace: The Y-word debate

It's something of a joke that the Tottenham fans should be threatened by the police on this matter against the very side that historically, along with Chelsea, are responsible for the Spurs' support reclaiming the Y-word in the first place.

Yes, Sunday was a day to forget for many reasons. So I'm going to do just that. Everyone else has lost a game this season to a team they were expected to beat and now Tottenham have, too. There's nothing else to do but bounce back.