Spurs rehab room an unexplained black hole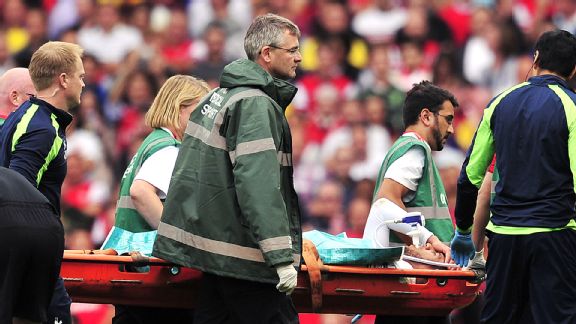 Glyn Kirk/AFP/Getty ImagesEtienne Capoue, who was injured Sept. 1 against Arsenal, is among a large number of Spurs who have spent a suspiciously long time on the injured list.
Be grateful for small mercies. Thursday's game at Anzhi might have been grim to watch, but at least it was relatively comfortable. A 2-0 away win in Europe is something a Spurs supporter should never take for granted. And at least I was watching it in the comfort of my own home. At one point in August I had seriously contemplated flying to Russia to see the game live. That's one decision I won't regret.

Even so -- surely both teams could have managed something a little more entertaining than that? Neither rarely broke above walking pace, and the passing and control of the ball was lamentable. The commentators blamed the poor showing on the state of the pitch, but that excuse seemed a bit feeble. Back in the 1960s and '70s, pitches were like mudbaths throughout the second half of the season, but teams still managed to play exciting, attractive football. And it's hardly as if every pass goes where it's intended when they do play on manicured surfaces ...

In the bigger scheme of things, the only real concern was seeing Younes Kaboul go off with yet another injury late in the second half. He has already been ruled out for Sunday's home game against West Ham. With Michael Dawson and Jan Verthongen fully fit and Vlad Chiriches in reserve, Kaboul's absence shouldn't be so keenly felt as it was throughout last season. But it does raise the question that many Spurs fans have been asking themselves for several years.

Just what goes on in the White Hart Lane injury-rehab clinic? It has come to resemble more of a black hole from which players never emerge. They go in with what is reported as a minor knock and aren't seen or heard of again for months.

Take Aaron Lennon. Lennon has long been a paid-up member of the sick list. Almost every season he seems to spend at least two or three months out of action. Whether this is because he is just unlucky, a prime target for opposition hard men, not fit enough or a combination of the three is really neither here nor there. What counts is that he is unavailable.

Normally his injuries strike rather later in the season. But in the second game this season he went off with what looked like a minor foot injury and hasn't been available since. That was about six weeks ago and there's no sign of him coming back any time soon. Each week, I check the club website to see if he's fit again; each week I read that he's still unavailable.

It must be as disappointing for Lennon as it is for the club. Were it not for his tendency to be injured, he could be one of the club's stars. Now, when he is fit, he's going to be up against Andros Townsend, Erik Lamela and Nacer Chadli for a place in the starting XI.

Then there's Etienne Capoue. When he was stretchered off against Arsenal on Sept. 1, it was first feared he had a broken leg. Within a day, the news was far more optimistic. Capoue had a badly bruised ankle and would be out for a month. The month has long been and gone and there's no sign of the Frenchman making a comeback. The same goes for Danny Rose. He went off with a toe injury against Tromso. We were initially told that the injury was not that bad and he might be fit for Cardiff the following Sunday. He wasn't. Nor has he been since. His absence has been the most keenly felt. Neither Kyle Naughton nor Ezekiel Fryers has looked the real deal at left back.

There have been similar narratives for previous seasons. Kaboul was injured in the first game last year against Newcastle. Sandro went off against QPR. Both injuries turned out to be a great deal more serious than first admitted. Defoe was also out for a lot longer than was first announced. The list goes on and on.

All of which offers some intriguing possibilities. The most sensible -- that Spurs imagine there is some advantage to withholding information -- is somehow the least likely. After all, what is there possibly to be gained when the opposition will always assume you are going to field your strongest team? So that leaves two options.

The first is that the club doesn't actually know how serious the injuries to its players really are; the second is that the club doctors and physios are secretly making the players worse. Will the next player -- should there be one -- to escape from the rehab rooms please tell us which it is?