Soldado struggles as Defoe waits in the wings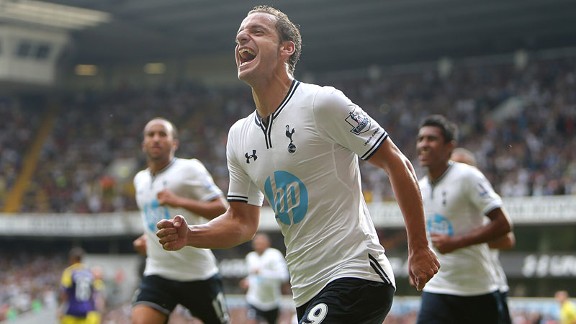 GettyImagesRoberto Soldado has not scored since the penalty against Swansea.
When I wrote last week that it would be useful for Spurs if Jose Mourinho remembered that Juan Mata was best kept on the substitute's bench, I had no idea just how accurate that observation would be. For the first half against Chelsea, Spurs were comfortable; good value for their 1-0 lead. Then on came Mata for the second half and Chelsea dominated the midfield and started to stretch Spurs; their equaliser was only a matter of time. Had Torres not been sent off 10 minutes from the end -- though he should have been red-carded some 20 minutes previously after petulantly scratching Jan Vertonghen's face -- Spurs might have been looking at worse than a draw.

If Mata was the on-field difference, Mourinho -- and it pains me to say this -- was the off-field one. He changed the shape of his team at half-time and whatever he said to his team -- a few expletives probably, after a peculiarly lacklustre first-half performance -- seemed to work. Tottenham were immediately put on the back foot and kept there, with their usually strong passing game eluding them. Possession was all too hard won and all too easily lost.

- Fitch: AVB had no answer for Mata

Here was clear evidence that Andre Villas Boas still has a little to learn from his former boss. Not a lot, but enough. With Mata running the midfield and with Paulinho and Mousa Dembele seemingly powerless to stop him, the game was crying out for the introduction of Sandro. The Brazilian's physicality and presence would have been enough to give Mata pause for thought, if not to nullify him completely. At that stage of the game and with Chelsea in complete control, a pause for thought might have been all Spurs needed to regroup.

Instead, AVB left both Dembele and Paulinho on the pitch and chose to substitute Lewis Holtby for Christian Eriksen and Nacer Chadli for Andros Townsend. While it was clear Eriksen was visibly tiring, it was equally clear the greatest need was to try and stop Chelsea punching holes through Spurs' midfield. Replacing Townsend with Chadli was just baffling. What does Spurs' record transfer signing have to do to get on the pitch?

This isn't to do down Chadli, who has made a more than useful start in his career at Tottenham. Rather to point out that Erik Lamela's pace and trickery might have given Ashley Cole rather more to think about. Not forgetting that it had been Lamela's neat flick with the outside of his left foot in the 93rd minute the previous week that had created the late winner against Cardiff.

Curiously, though, AVB's biggest ongoing headache lies with the one substitution with which no one could argue. Jermain Defoe for Roberto Soldado. True, Soldado had created the goal for Gylfi Sigurdsson with a perfectly weighted lay off from Eriksen's square pass, but other than that one flash of brilliance he didn't have a great deal of effect on the game. It wasn't a lack of effort; rather the reverse, perhaps. The harder he tried the less effective he became as his touch became heavier and heavier. No sooner had the in-form Defoe joined the fray than Spurs began to look more of a threat up front.

Soldado isn't a bad player. The way he put away the two penalties that secured Spurs' first two wins of the season exposed the ruthlessness of a natural striker, but he has seldom looked like scoring in the Premier League since. He is a good player out of sorts and the question that AVB needs to ask is whether it is just a matter of time and doing what's needed to help Soldado settle, or whether the way the manager has the team set up is contributing to his striker's loss of form.

If it's the latter then AVB has a problem on his hands. Does he tinker with the team's style of play to fit more round Soldado, or does he just say Defoe is the man with the golden boot and make him his first choice? My own instinct would be to start with Defoe, but AVB has shown himself to be remarkably stubborn/loyal to his first team choices so far this season and may be reluctant to start changing things round. The risk, though, is that by doing so he plays Soldado more and more out of form.

Soldado and AVB might well argue that all the striker needs is a little break. One goal and the floodgates might open. They might well be right. For this reason, however much AVB might be tempted to rest the Spaniard, starting Soldado against Anzhi in Russia might be the solution. The Russian defence is likely to be a little more forgiving than many in the Premier League and could well offer Soldado a convenient way to restore his confidence with a cheap goal or two. And if that didn't work, then it would be Defoe to start against West Ham on Sunday.