AVB had no answer for Jose's introduction of Mata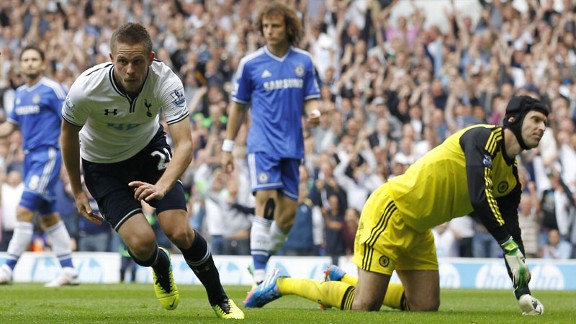 GettyImagesGylfi Sigurdsson celebrates his opening goal for Spurs.
LONDON -- If you'd asked me before the game, I'd have taken a draw. It is a measure of Spurs' progress that I felt merely nervous on my way to the ground, rather than downright nauseous, but would nevertheless have settled for a point.

Yet as I walked away from the ground I couldn't help but feel annoyed that Tottenham hadn't won. It was certainly a fair result in a game that Spurs dominated the first half and Chelsea the second, but when your side surrenders a lead you're inevitably left disappointed.

Spurs played well enough before the break to put the game beyond the Blues. Roberto Soldado was the first to threaten when he was put through, but his first touch was too heavy when he would have been better served by letting the ball run and latching on to it.

- Lythell: Terrific Torres shines against Spurs
- Delaney: More questions than answers
- Worrall: Mata proves a point

The Spanish striker had another disappointing afternoon on the whole, but he was at least heavily involved in Spurs' opener. Christian Eriksen played a lovely ball through to Soldado, who laid it off perfectly to Gylfi Sigurdsson, coming in from the right, who calmly finished.

It was a carbon copy of the three-man move that saw Tottenham score their first against Norwich and it's good to see that Sigurdsson is stepping up to the challenge of being part of such a talented squad.

There could have been more. Eriksen was in impish form, while Andros Townsend probed at pace down the right. Behind them, Paulinho and Mousa Dembele were first to every ball as Spurs outmuscled Chelsea -- once an impossible mission.

Tottenham's best chance of going 2-0 up came when Townsend slipped through a neat ball after a patient move and Paulinho struck the post. The young winger impressed on Saturday, showing a lot more intelligence and variety than what we witnessed in his shot-laden performance against Cardiff.

Spurs' dominance was enough to make Jose Mourinho dispense with whatever petty game he's playing with Juan Mata and actually put Chelsea's best player on the pitch. That was bad news for Tottenham as the Spaniard's brilliant performance turned the game on its head.

Suddenly Fernando Torres looked dangerous against Spurs' high back line, while Paulinho and Dembele were reduced to hopelessly chasing every ball, rather than winning them.

The game had been billed as a battle between Andre Villas-Boas and Mourinho. The elder statesman won the tactical battle as AVB struggled to respond with a substitution that could change the flow of the game.

Lewis Holtby and Nacer Chadli came on for the fading Eriksen and Townsend, then Jermain Defoe injected some urgency when replacing the muted Soldado, but none of these changes addressed the issue that Mata was controlling the game.

Sandro should have been brought on, perhaps for Paulinho, who looked tired in the second half having played three games in six days. The Beast would have inspired those around him and could have nullified Mata's brains with his brawn.

Chelsea played well enough in the second half to have won the game, so perhaps it's a bit churlish to get annoyed at their equaliser, but the defending was poor. John Terry was afforded too much space and headed home Mata's free kick. It probably wouldn't have annoyed me quite so much if it wasn't Terry who scored the goal. Anyone but him ... or Frank Lampard.

At 1-1 the fear was that Chelsea would take the lead, until Torres considerately got himself sent off and put Spurs back into the game. Against 10 men, Spurs could have snatched victory, with Sigurdsson going particularly close with a volley after some prolonged passing.

The day after the day before, I'm more relaxed about the result. What was most important was to not get beat. Having already lost to Arsenal, losing to another rival would have raised questions. Instead Tottenham can look forward to beating West Ham and getting back to business.