Holtby inspires Spurs fringe stars to Villa thrashing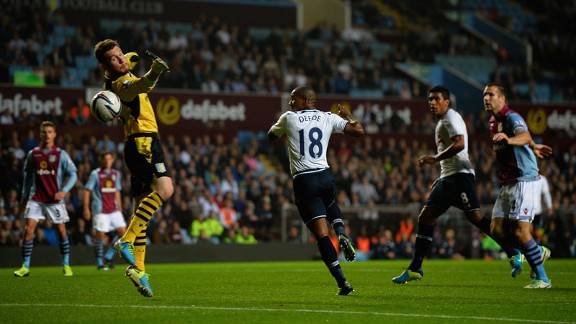 GettyImagesJermain Defoe puts Tottenham into the lead at Villa Park.
It wasn't so long ago that watching Spurs was far from pleasurable. Tottenham tended to torment more often than triumph.

I now actually look forward to games, knowing that they won't be accompanied by a pang of nausea creeping around in my stomach. This is taking some getting used to but I think I'll get there in the end.

Spurs have now conceded just one goal in nine games. Spurs. This is a club that seemingly had a leaky defence in their DNA, yet this current squad are threatening to change that perception.

- Aston Villa 0-4 Tottenham

'Squad' is the word to use here, rather than 'team', because Andre Villas-Boas made eight changes to the side that won at Cardiff. Only Kyle Walker, Jan Vertonghen and Paulinho retained their starting spots.

Aston Villa also made several changes from their established first-team, but that shouldn't undermine this result. Tottenham played attractive, effective football that was a joy to watch.

The trio of Harry Kane, Lewis Holtby and Erik Lamela, that operated behind Jermain Defoe, were particularly impressive. Those who have only seen Kane play as a striker may have been surprised to see him start on the left, but the fact is that he has spent a lot of time playing in a second striker/number 10 role and on both flanks.

He looked perfectly at home and teamed up effectively with his more lauded attacking midfielders. Hopefully this will go some way to halting the collective groans that accompanied his introduction against Cardiff (where he also played well).

It was Holtby that was the star of the show, though. He set up three of Spurs' four goals and the first in particular was a result of his inspiration.

Some neat play resulted in Holtby receiving the ball in a central position just outside the area. Villa's defence looked to have him covered, but the midfielder surprised everyone by scooping the ball over the back four, straight into the path of the on-running Defoe, who headed home.

It was a glorious goal and put the team at ease. Prior to this breakthrough, Tottenham attempted plenty of efforts without success. Was this going to be another Cardiff situation? The fact that those efforts came from relatively close range -- rather than speculative shots from the flanks -- always suggested otherwise.

The second goal came just after the break, when Paulinho karate kicked the ball into the net from a Holtby corner. Unfortunately for the Brazilian, his goal was completely overshadowed by an incident that occurred shortly before.

If you haven't seen it yet, rest assured that you will soon witness it in GIF form. Villa's Nicklas Helenius found himself through on goal and in desperation, the chasing Vertonghen came up with a solution that was sheer genius.

Already falling to the floor, our hero grabbed onto Helenius' shorts and pulled them down to his ankles, tripping the Danish striker in the box. It was clearly a foul, but one so devastatingly original, that the referee was left stupefied and simply ignored it. More of this sort of thing please.

Back to the goals... Nacer Chadli grabbed his first for the club and the team's third, thanks to some poor goalkeeping. The fourth was Defoe's second, as Holtby won the ball and delivered a diagonal ball. Defoe rounded the keeper and coolly converted to become Spurs' fifth all-time highest goalscorer.

It was a very entertaining display from the attackers currently on the fringes of the first-team, but those behind them shouldn't be forgotten.

In particular, Sandro and Paulinho provided a very solid base that allowed Holtby and Co. to do their thing with impunity. Their pressing never gave Villa any time on the ball, or the opportunity to gain a foothold on the game.

They would be my choice to face Chelsea. Even though Dembele has impressed me against Norwich and Cardiff, Sandro was immense on Tuesday night and protects the back four so well.

That defence contained a debutant in the shape of Vlad Chiriches, who looked a little overawed at first. His passing was poor in the first-half, but he gradually began to look more composed. I'm guessing that the pace of an English cup tie is somewhat faster than what he's been used to in the Romanian league.

His fellow defenders played well against an admittedly puny Villa attack. Walker and Vertonghen were still full of energy two days after the match with Cardiff, while Zeki Fryers didn't look out of his depth at left-back. Behind them, Brad Friedel showed that he is still an extremely capable shot-stopper.

Coming so soon after the game on Sunday, this match looked like a potential banana skin.

Instead, Tottenham cruised home. The depth of the squad is key. Not only does it allow AVB to make changes without reducing the quality of his starting lineup, but it also ensures that those coming into the side are desperate to show their worth.

We're going to enjoy this season.