AVB again pushes the right buttons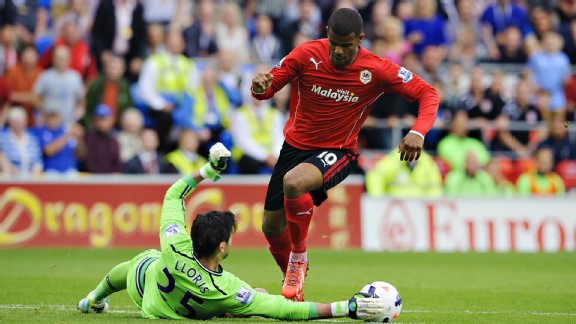 AP PhotosSpurs got a break when goalkeeper Hugo Lloris was not called for a handball on this desperation save on Cardiff's Frazier Campbell.
On 80 minutes on Sunday, with Spurs having failed to find their way past a stubborn Cardiff defence and a goalkeeper, David Marshall, in inspired form, manager Andre Villas-Boas withdrew Danish playmaker Christian Eriksen and put on Harry Kane in his place. Whatever problems Spurs have had in the past, Kane has never seemed like the answer. Spurs fans were scratching their heads as to why Jermain Defoe, who scored twice against Tromso in midweek, hadn't even made the bench.

On 92 minutes, with Spurs still pressing and Cardiff defending in depth, Erik Lamela won a header on the right and played the ball inside to Lewis Holtby. The return pass was inch-perfect as was Lamela's cross, which was back-heeled by Paulinho into the goal from close range as Tottenham pulled out a 1-0 victory.

-Paulino nets late winner for Spurs

AVB may make some curious selection decisions at times, but even the biggest sceptic has to now conclude that he knows what he is doing. He picked a squad to do a job against a team that had already beaten Manchester City this season, and one way or another -- though they left it late -- they got the job done on Sunday.

Cardiff will feel hard done by to have been beaten deep into injury time. They might also feel hard done by to have been up against 11 Spurs players most of the game, as early on a suicidal back pass from Kyle Naughton put Cardiff forward Frazier Campbell through on goal with only Hugo Lloris to beat. The French international raced out to intercept and got away with a clear handball outside the area.

Cardiff also had the ball in the net from a corner just before the break, but the goal was rightly disallowed for a foul on Michael Dawson.

But this was, for the most part, a thoroughly accomplished performance from a Spurs side clearly growing in belief and confidence. Spurs dominated possession and had already had 11 shots to Cardiff's none inside the first half-hour. However much the Welsh team might now be ruing only their second home defeat in 2013, when the pain has died down they will probably be wondering just how they were still in contention for so long.

After a brief opening flurry from Cardiff, Spurs gradually took a stranglehold on the game; the Cardiff midfield barely got a look in as Paulinho, Moussa Dembele and Eriksen ran the show. And on the rare occasions Spurs lost possession, every player tracked back and tried to regain the ball. Longtime Spurs fans will need no reminding of just how rare that is.

The pressure inevitably created chances and Roberto Soldado, Eriksen, Gylfi Sigurdsson and Paulinho will all be wondering how they had failed to put Spurs out of sight by midway through the second half.

This was by no means a flawless performance. Kyle Naughton, deputising for the injured Danny Rose, had a shocker at left-back. Time and again he was exposed, and all Cardiff's best chances came on their right-hand side. And though Dembele was excellent as a ball winner, he still tends to pass sideways too much and has completely forgotten how to shoot, let alone score.

But it was an effort from which everyone can take heart. Most teams will struggle in Cardiff's backyard, and for Spurs not to lose heart that all their pressure failed to be translated into goals says a great deal for AVB's management style. Many previous Spurs teams would have said "Ah well, it's just not our day," and settled for a draw.

And if you are looking for other un-Spurs like behaviour, then you only have to look in the goals conceded column. Just one in five games. That just doesn't happen. Even better, this was a solid team effort. Not one, like so many in the past, that have relied on moments of genius from individuals. Naughton apart, everyone played well with Eriksen again looking the pivotal link between midfield and Soldado.

But you can't end without mentioning Kyle Walker. Walker has come in for justifiable flak for both his on- and off-field performances this season, but on Sunday he looked the real deal. Urgent in attack and effective in defence: if he can continue like this he might be the real deal after all.

As might the team. For once, Spurs will look forward to next Saturday's big derby against Chelsea with expectation rather than hope.