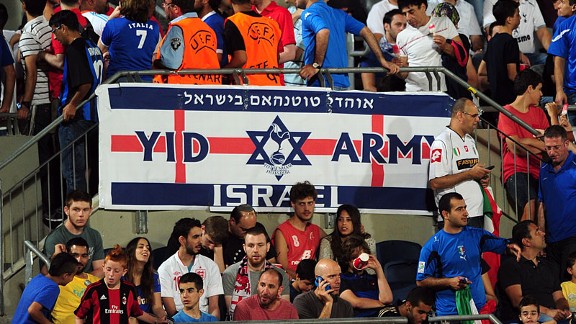 PA PhotosThe Tottenham Hotspur Supporters' Trust "sincerely believe that no Spurs fan uses the term in a malicious way".
Last week, the Football Association announced Spurs fans could face criminal prosecution if they continued to use the word "Yid," a term that some consider anti-Semitic, in their chants. Predictably, this threat provoked some sections of White Hart Lane to redouble their use of the Y-word during Saturday's game against Norwich.

Tottenham Hotspur Supporters' Trust chairman Darren Alexander said: "There was a degree of defiance on Saturday and that was always going to happen with the way that the FA has gone about this. There is always going to be the idea among the fans that they are picking on us and that is why that act of defiance happened.

"I know it is offensive to some Jewish people but our focus is the legality of what the FA have announced this week. As far as we are concerned and as far as the police are concerned, unless there is an intent to offend, then you cannot be prosecuted."

- AVB welcomes Cameron stance
- PM backs Spurs fans over 'Y-word'
- Spurs fans to contest action on 'Y-word'

It seems that the FA has come round to the same conclusion as after the game it announced that no Spurs fans would face prosecution. Also weighing in on the same side was Prime Minister David Cameron, who told the Jewish Chronicle: "There's a difference between Spurs fans self-describing themselves as Yids and someone calling someone a Yid as an insult."

Cameron's intervention precipitated an immediate response from David Baddiel, a long-time campaigner against the use of the Y-word. Writing in The Guardian, he explained why the Y-word was a race hate insult under any circumstances and that just because Spurs have traditionally had some Jewish links and that the fans' use of the word is intended as affirmation, it does not give everyone the right to reclaim a word that was never theirs.

The area around White Hart Lane in north London is one that has traditionally been home to a large Jewish community, many of whom identify themselves as Spurs supporters. The current club chairman, Daniel Levy, is Jewish; as was Alan Sugar (now Lord Sugar) before him. Though by no means a majority of the club's supporters are Jewish, the link with the Jewish community is one both the club and all its supporters are proud to identify themselves with. Hence the club and its supporters having been targeted with anti-Semitic abuse from rival fans.

So the Y-word at White Hart Lane is a tricky issue. It's been around for years and in all probability will be around for years to come. It began in the 1970s, when Spurs fans began to use it as a form of positive group identification after being abused as "Yids" by supporters of other clubs -- in particular Chelsea and Arsenal. It's the Chelsea connection that is Baddiel's biggest stumbling block as he is a longtime Chelsea supporter. Spurs fans don't like being told what to do by a Chelsea supporter at any time; and all the more so when it's the Chelsea fans who are the biggest culprits for using the Y-word as a form of abuse.

And so it goes on. Both sides think they are right and both refuse to budge an inch. Fans make their position and dig their heels in. Every fan has to make up their own mind. Here's my position, taken from an excerpt of my book about being a lifelong Spurs supporter, "Vertigo: One Football Fan's Fear of Success," which includes my own conversations with Baddiel a couple of years ago:


Being a bit Jewish [I found out in 2008 that I might have some Jewish ancestry] did make me think about the word Yid. Was I more entitled to chant it? I thought I probably was. Did I feel any more uncomfortable when a moment of joyous brilliance was welcomed with 'Yiddo'? No. It still felt overwhelmingly empowering. It was something -- or rather someone -- else that made me think twice about that.

I'd met David Baddiel at a bookshop event back in January. We'd got on quite well in the few minutes we chatted and he told me about the Y-word, a short film he and his brother had made about anti-Semitic abuse in football. His argument was that Yid was a no-go word. No exceptions, not even for Spurs fans. I suggested he might feel differently if he experienced the chant from inside the Lower east stand at White Hart Lane rather than from the Matthew Harding stand at Stamford Bridge. We parted amicably.

A month or so later, I was invited to the film's launch. I couldn't go but soon found myself in a protracted email debate with David, which ended with my being backed into an intellectual corner. I couldn't escape the conclusion that whatever right Spurs fans had to use the word was outweighed by the legitimacy it gave fans from other clubs to use it against us abusively.

My friend Alex, a Jew and non-Spur who has been to White Hart Lane countless times with me over the years, was shocked by my conversion. "I can't believe it," he said. "I've never felt my identity celebrated so positively as when the Yid chant starts."

Matthew and Theo [two friends who have been with me to Spurs games all over Britain and Europe] were equally horrified at what they saw as my Guardianista wishy-washy liberalism. "You can't let a Chelsea fan tell us what we can and cannot sing," they said as one. "He's got no idea. We reclaimed that word from the racists, so he can't stop us saying it. What's he expect us to do when Chelsea and Arsenal fans make gas chamber noises at us? Just sit back and take it?"

That's precisely what I proposed to try and do. I wasn't convinced that Chelsea and Arsenal fans would stop their anti-Semitism if Spurs fans dropped the Yid chant -- after all, we had adopted it in response to their anti-Semitism in the first place -- but if there was the slightest chance that they might, then morally I was obliged to give it a go. And if Arsenal and Chelsea fans did continue, then they would be more openly exposed as the racists they were.

I didn't think it would be easy, though. "I'll do my best," I wrote to David, "but when Gareth Bale scores another wonder goal to defeat the Arse, I can't promise that years of operant conditioning won't kick in and I'll be chanting 'Yiddo' along with the rest of the crowd."

"I quite understand," David replied conciliatorily. "But if you do join in, just try to be conflicted about it." That I could manage. Conflicted is the default position for every Spurs fan.
Vertigo: One Football Fan's Fear of Success by John Crace is published by Constable. It is available from Amazon, Kindle and all good booksellers.