Spurs' strength in depth asks new questions of AVB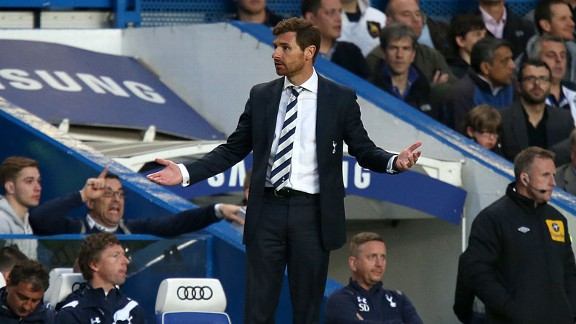 PA PhotosTottenham boss Andre Villas-Boas during their Premier League game against Chelsea at Stamford Bridge
Check out the substitutes bench from last Saturday's game against Norwich: Brad Friedel, Kyle Naughton, Younes Kaboul, Sandro, Lewis Holtby, Erik Lamela and Jermain Defoe. Seven players who would have walked into the starting XI of well over half the other Premier League teams.

Then remember that Aaron Lennon and Etienne Capoue are both injured, that Nacer Chadli and Tom Carroll didn't even make the bench and that Vlad Chiriches has yet to get a work permit. In recent years, Spurs have often talked a good game about having strength in depth, only to be exposed when certain key players got injured. Now they have finally delivered on their promise.

All of this bodes well for Thursday's opening Europa League match against Norwegian side Tromso. In the past two years, Spurs have struggled to juggle their squad satisfactorily to cope with the competing demands of Thursday night football and the Premier League. Harry Redknapp -- much to the annoyance of fans who had looked forward to a good cup run -- made no secret of his lack of interest in the Europa League and consistently fielded a weakened team that was knocked out in the group stages.

- Stats: Eriksen's immediate impact at Spurs
- Crace: Tottenham click into gear
- Fitch: Defence is the new attack

Andre Villas-Boas took the competition rather more seriously -- and why not, given the effort the team had made to qualify for it? -- and put out a nearly full-strength side, but fans did wonder just how much everyone's heart was in it as they stuttered through the league rounds before getting knocked out in the quarterfinals.

AVB now has no headaches with selection. Although Tromso is a team he would expect to defeat quite comfortably, he knows he has the resources to put out a strong side without worrying about having to hold players back for Sunday's match away at Cardiff. He could start by just naming the seven subs from last weekend in his starting XI and work from there.

But a strong squad does give a manager a different type of headache. It tests his touchy-feely powers of man management to the limit. It was always said that Redknapp was the master of man management, but that was a very partial reading of Redknapp's skills. Redknapp's style was to make it very clear who his favoured team was and play it consistently. This made everyone on the inside of Harry's circle feel immensely loved and valued, while those on the outside felt unwanted. This worked fine until the last few months of every season, when key players would get tired or injured and Redknapp was forced to bring in players who knew the manager didn't really rate them.

AVB will need to do a lot better than this with his squad; not least because it's a great deal better than Redknapp's and making Lamela and Defoe feel like outsiders would be a great deal more catastrophic than doing the same to Tom Huddlestone and Jake Livermore.

AVB has shown he can nurture players: his management of Bale proved that. He's also shown he can be tough by sending Emmanuel Adebayor out to train with the youth team. Now he's got to show he can do both at the same time, which is rather more difficult.

Ideally, of course, the players would do their best to make life easy for the manager. They would understand their duty is to the club and if the manager thinks it's in the club's best interests for them to be sidelined for a few games, then so be it. After all, that's partly what a professional footballer is paid for.

But most players aren't that understanding. They have big egos and are often young, immature and totally pampered. They have had people telling them how wonderful they are at football since they were six years old and find rejection hard to handle. So they sulk. Here's where AVB will really earn his money.

Dropping a player is the easy bit. Explaining to him why he's been dropped and making him feel he's still an important part of the team is the tough bit. That's the part that guarantees each player is in the right mental state when he is required.

If AVB can get this right, Spurs have the squad depth to make a serious challenge in every competition. With Tromso on Thursday, Cardiff on Sunday and Aston Villa in the Carling Cup next Tuesday, by this time next week, we should have a fairly good idea of how he's doing.