Eriksen's immediate impact at Spurs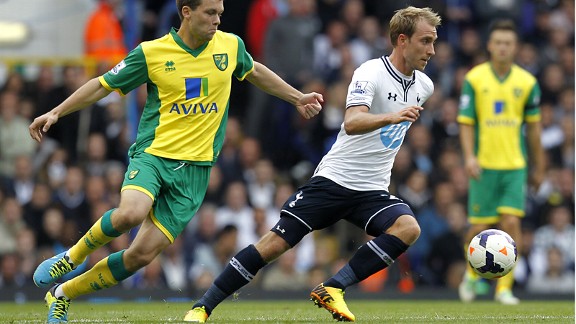 GettyImagesChristian Eriksen set up Spurs' first goal from open play this season.
The impact on Tottenham of Luka Modric's departure to Real Madrid is arguably greater than that of Gareth Bale. Granted, Bale won countless points with goals of individual brilliance in the dying minutes of games last season, and Spurs would never have come close to the record Premier League points tally they eventually achieved, but ever since the diminutive Croatian left north London, there has been a significant hole in midfield.

The funds generated by the sale of Modric were spent wisely, and in the end it was Mousa Dembele who replaced him. The Belgian quickly became a fundamental member of the midfield, without whom Spurs were a vastly inferior side, and he has proven a fantastic signing considering he cost less than half the amount Madrid paid for Modric. However, something was still lacking.

Dembele was capable of moving the ball forward from deep like Modric, but he would carry the ball upfield rather than pass it, and when he reached the final third of the pitch, would often struggle to find a gap for a killer pass to spark the attack into life; the sort of pass for which Modric is so famed.

- Crace: Tottenham click into gear
- Fitch: Defence is the new attack

So, for large parts of last season, Spurs looked decidedly void of invention when teams sat back against them. They were unable to counter-attack using the pace of Bale and Aaron Lennon with no space in behind to attack, and had no 'number 10' creator. Hence, Bale was required to dig them out of trouble time and again. With no direct replacement for the Welshman available, Spurs have changed tack, and a creative midfielder was a priority.

On Saturday, Christian Eriksen made his first Tottenham appearance since his £11 million move from Ajax, and he quickly made Spurs' previous inadequacies painfully obvious. It might have only been one game and it might have been against a below par Norwich side, but there was an obvious fluidity to Tottenham's attacks that had been lacking in their first three outings of the season. Until Eriksen picked up Roberto Soldado's layoff and played in Gylfi Sigurdsson with a precise, disguised pass from which he opened the scoring, Spurs had gone 298 minutes -- nearly five hours -- without a Premier League goal from open play this season. At that point, Eriksen had already gone close while Soldado had hit the post. It was telling that Spurs players created more goalscoring chances against Norwich (20) than they had in any of their other Premier League games so far this season.

Just about everything that Tottenham did offensively went through Eriksen and the Dane was to thank for the side retaining possession in dangerous areas in a way they simply did not at the Emirates a fortnight earlier, and which they did less so against Crystal Palace and Swansea. Tottenham completed 169 passes in the final third of the pitch against the Canaries, a tally they have only bettered in two Premier League games over the past five seasons, and each of those were against eventually relegated clubs. That is not to say Norwich are doomed this term, but instead that Spurs were particularly impressive against a side that came 11th last season and could feasibly be in the top half come May next year.

Eriksen completed a pass in the opposition half every 112 seconds, and has straight away shot to the top of Spurs' charts in this regard, with Lewis Holtby the only other player to have done so more frequently than every two minutes. Holtby, though, hasn't been able to hold down a first team spot at Spurs since his January move from Schalke and despite being Eriksen's senior by some 17 months, looks to have more to learn than the Dane.

Of course, one can't take too much from a solitary appearance at home to Norwich, but Eriksen's form has been more longstanding than that. He left the Eredivisie with the second-most assists in the league this season with three in four appearances, prior to his move to Spurs, while despite the fact that his Ajax side were eliminated in the group stages of last season's Champions League, only Zlatan Ibrahimovic (7) and Mario Gotze (5) set up more goals than him (4) in the competition.

With the most accurate through balls per game (0.8) in the Eredivisie this season, he could prove invaluable to a team that averaged 1.3 per game as a whole in 2012/13. Furthermore, Spain striker Soldado's main threat is his clever movement, and he thrives on the through-balls that he is constantly looking to get on the end of. He hasn't yet had the opportunity to showcase that ability but with Eriksen around, chances -- and thus goals -- could start to flow.

It is early days in Eriksen's Premier League career, and fans and Andre Villas-Boas alike will need to be careful not to get too overexcited about the summer signing who has arguably given the most reason for optimism at White Hart Lane. Nonetheless, early signs look good, and if Eriksen does turn out to be the missing piece in the puzzle, Spurs could challenge for Champions League football.

All statistics courtesy of WhoScored.com, where you can find yet more stats, including live in-game data and unique player and team ratings.