Defence is the new attack at Spurs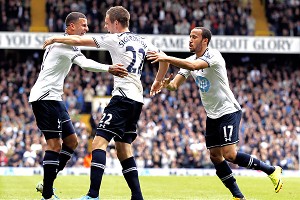 Ian Kington/AFP/Getty ImagesTottenham's Gylfi Sigurdsson, center, celebrates scoring the opening goal with teammates Andros Townsend, right, and Kyle Walker in Saturday's game at Norwich City.
As a young Tottenham Hotspur supporter, one of the first things you're taught is that you don't relax when the team takes a 2-0 lead. That's for the Spurs players to do.

Even 3-0 hasn't always been enough to stop the heart palpitations when the opposition enters the Tottenham half, but Saturday I never felt remotely worried that Norwich would stage any sort of comeback.

-Sigurdsson brace has Spurs on track
-Analysis: Delaney | Crace
-Lamela's brother kidnapped

It should be noted the Canaries are a somewhat shot-shy team, particularly away from home. Still, that sort of thing hasn't stopped Spurs from conceding a silly goal in the past.

There was a lot of criticism directed toward the lack of creativity on the team after the 1-0 loss to Arsenal and perhaps not enough respect for how solid this new side is.

Being able to play any two of Etienne Capoue, Mousa Dembele, Paulinho and Sandro in the defensive midfield positions gives the back four tremendous protection.

A lot of emphasis has been placed on the fact that the two fullbacks are much better going forward than they are defensively, but having two deep-lying midfielders means that they can cut across to plug any gaps.

Similarly, Michael Dawson and Jan Vertonghen may lack pace, but they are able to push forward in the knowledge that they have Hugo Lloris ready and able to sweep up behind them.

There's also clearly been some hard work behind the scenes. Witness how the team suddenly look rather comfortable when defending corners -- a major concern as recently as preseason.

This back seven have conceded only one goal in four games. No side that have played four games this season have let in fewer.

That isn't a fluke. Tottenham now have the personnel to ensure that clean sheets will be commonplace rather than a rarity. Here's a prediction: Spurs will concede fewer goals this season than they ever have in the Premier League era.

When a team doesn't concede goals, they'll scrape results even when they aren't performing well. That was the case with the wins against Crystal Palace and Swansea.

Saturday's game against Norwich saw Tottenham look better in attack, with Christian Eriksen having a very promising debut. He had a hand in both goals and almost created a third when Roberto Soldado's inspired back heel was cleared off the line.

With Erik Lamela still to be properly introduced to the side, things can only get better in terms of creativity and scoring goals. Perhaps then Spurs will start winning by larger margins and get involved in this goal-difference shenanigans that all the other big clubs seem to swear by.

It all adds up to a good start to the season. If you look at the results through four games compared to last season --- substituting QPR for Crystal Palace -- then there's already an improvement, with only five points secured in 2012-13 compared to nine so far this campaign.

In fact, I'm so positive about things at Tottenham right now that I'm even looking forward to watching them play Tromso on Thursday. All those years I've spent trying to convince myself that what I loved about Spurs was their devotion to swashbuckling adventure, and it turns out that what really gets me going is some defensive solidity.