Tottenham click into gear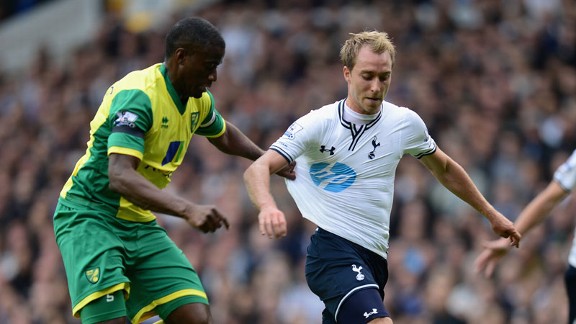 GettyImagesChristian Eriksen made his Spurs debut against Norwich.
At about the 70 minutes mark, someone near me in the crowd at White Hart Lane said: "It's been a long time since I've felt so relaxed when we've had a 2-0 lead." I knew exactly how he felt.

Normally for Spurs, a 2-0 lead is the moment for a collective breather or catastrophic lapse in concentration that lets the opposition back into the game and turns the final quarter into a nerve-shredding battle to hang on. Not against Norwich on Saturday. This was a game Spurs dominated from first to last: Norwich only managed just over 30% possession and just one shot on target.

Most of the plaudits will go to Christian Eriksen on his debut. Spurs have been crying out for an old-fashioned Number 10; a playmaker who can exploit the gaps between the midfield and the lone striker, Roberto Soldado, to unpick stubborn defences. Eriksen did that and more.

- Delaney: Bright new era dawning for Tottenham

He was strong on the ball and time and again created havoc with his pin-point passing. His perfectly weighted ball from a Soldado knock down led to Gylfi Sigurdsson's first goal, but his through pass to Paulinho that created the second was just as good. For the first time in the Premier League this season, the midfield played with a real sense of purpose: Eriksen's invention gave them a new edge.

But it was also a team effort. Norwich fans will be disappointed that their team, which had battled so hard in its last three games, put up so little fight and displayed almost no ambition, but credit must go to Spurs for dismantling their opponents so effectively.

Spurs never allowed Norwich to settle: they kept running and running at Norwich, switching play at will and when they did lose the ball, they chased and harried to get it back. It wasn't quite Barcelona, but it was a decent imitation.

Here was yet another sign that Andre Villas-Boas is getting his message though to his players; the normal Spurs reaction to losing the ball is a shrug, a look around for someone else to blame followed by a nonchalant stroll back down the pitch. The Norwich team seemed as surprised as the crowd at Spurs' intensity and desire to win the ball.

Not that there isn't room for improvement. Other teams will put up more of a fight than Norwich and a two goal victory wasn't as emphatic as it should have been. Spurs have yet to learn how to translate their superiority into goals and this might cost them in later games. There are also a couple of players who still look well below their best.

Moussa Dembele had the occasional flickers, but he looks to be short on confidence and ideas. He now appears terrified to move forward and shoot: a huge disadvantage for an attacking midfielder. And Kyle Walker is still... Walker. Moments when he looks like he is the best right-back in the country and moments when he doesn't look the best right-back at White Hart Lane. His inconsistency must infuriate him as much as his manager.

Nor does AVB seem to know what his best team is. Younes Kaboul, Erik Lamela, Lewis Holtby, Sandro, Jermain Defoe and Kyle Naughton were all on the bench. Etienne Capoue and Aaron Lennon are injured and, bizarrely, Vlad Chiriches has still to get a work permit. This is an embarrassment of riches as none of these players would look out of place in the starting eleven. It's not a criticism that AVB doesn't know his best team -- these are still early days -- but it does need resolving.

Kaboul and Sandro will probably come in soon for Michael Dawson and Dembele. But what of Lamela? Does AVB drop the inform Andros Townsend? I got the impression Townsend feared just that as he was doing his best to get noticed with his Gareth Bale like runs and shots from distance. Someone should tell him to relax and concentrate on being Townsend; even Gareth Bale wasn't Gareth Bale -- if you get my meaning -- in his first three years at Spurs.

Still, this is slightly nitpicking. While no one should get carried away and lose sight of areas for improvement, it's also important to give credit where it's due. Norwich are not mugs; nor are they likely relegation candidates, and they were a potential banana skin for a team that is still work in progress.

On Saturday, though, Spurs' progress was there for all to see. It was as good a performance as the one against Arsenal had been dismal, and one that will make the rest of the Premier League take note. We'll get a better idea of just how good this team is in a couple of weeks when Chelsea come to White Hart Lane. But for now, everyone at the club has good reason to be hopeful.