Walker needs to prove he's not football's walking punchline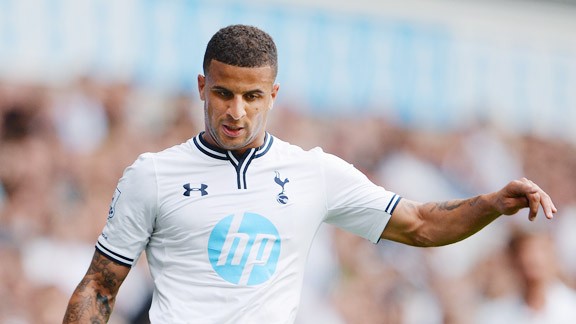 Michael Regan/Getty ImagesTottenham defender Kyle Walker has been in the press lately for all the wrong reasons.
While I write this, Kyle Walker is facing a challenging evening marking a rather fast and tricky Ukrainian left-winger. In a week in which Walker's face has been plastered all over the papers, pictured inhaling nitrous oxide from a balloon, it's probably a welcome distraction.

- Marcotti: England's unnecessary distraction
- Report: Walker sorry for taking legal high

Now, inhaling nitrous oxide, or "hippie crack," is perfectly legal. As are balloons. There are health risks associated with the activity, but they would be best classed as mild.

Not unusual for a story that broke in the U.K. tabloid press, a storm has been created over precisely nothing. No one would have batted an eyelid at a photograph of Walker glugging a pint of lager, despite the fact that drinking is also a health risk that seriously affects far more lives.

You could criticise Walker for failing to live up to his reputation as a role model. As a father myself, I can't agree. It's a parent's job to act as a role model for his or her children, and if you're letting them take their cues from some hair-brained young footballer, you're doing that job wrong.

What is actually the only real crime that Walker has committed is to indulge in an activity that makes him look pretty stupid.

That wouldn't normally be a huge issue. Footballers and stupidity traditionally go hand-in-hand like politicians and lying. Yet this story comes at a time when a lot of people are questioning Walker's intelligence as a footballer, and in that sense, it's not going to do his image any favours.

Walker was great in his first full season at Spurs. Having impressed in loan spells at QPR and Aston Villa, he was given a chance at White Hart Lane and was deservedly named as the PFA Young Player of the Year, as he made the right-back spot his own.

His performances that season somewhat fizzled out, thanks to Harry Redknapp's insistence on playing him in every game. (For more evidence of this, study the post-2011-12 career of Scott Parker.) Walker was physically shot by the end of the season, missed Euro 2012 and the Olympics with injury and was returned straight to Tottenham's first team without much of a preseason.

It was for that reason that I gave him the benefit of the doubt when his performances dipped, but there's only so long that excuses can be made for him. This is a player who seems to have slightly regressed at a stage in his career when he should be getting better.

Walker's pace is his major strength, but also his weakness. It means that he has grown up not having to worry about being properly positioned in defence because his speed will generally get him out of trouble.

His pace has also led to him being labeled a major attacking threat, when in reality he's not nearly as productive as he should be. Walker will go on long surging runs down the right flank, which is exciting but often fairly pointless when it culminates in a square ball infield.

In fact, it is Walker's attacking play that leaves more people frustrated than his odd defensive errors. He so often seems to reach the final third without any real idea as to what he's going to do with the ball. Compare his work in that area with that of Leighton Baines. Now there's an attacking full-back with an end product.

Walker has the raw talent to become a very good player, but he has a lot of improving still to do. At club level, it doesn't help that he's virtually guaranteed a first-team spot. Kyle Naughton is an able deputy, but you don't sense that he is going to kick on and ever properly challenge Walker for his place.

Perhaps that's what Walker needs. After all, Aaron Lennon was another gifted youngster who was stagnating until David Bentley was signed to give him some competition.

Or perhaps this silliness with a balloon will be the fillip that Walker needs to get his head down and look to improve.

At the moment, Kyle Walker is a footballing punchline. Only he can prove to everyone that he has the intelligence needed to get to the top.