Spurs will lose more top stars like Bale -- there's nothing wrong with that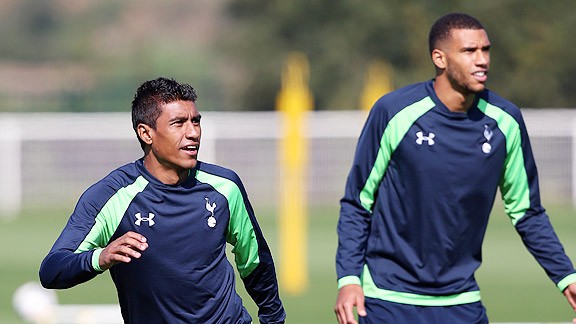 Adrian Dennis/AFP/Getty ImagesSpurs have many internationals such as Paulinho, left, and Etienne Capoue who could emerge as stars the way Gareth Bale did.
Hugo Lloris in goal. A back four of Kyle Walker, Younes Kaboul, Vlad Chiriches and Jan Vertonghen at left-back.

In midfield, pick any three from Etienne Capoue, Mousa Dembele, Christian Eriksen, Paulinho, Sandro and Gylfi Sigurdsson. In attack you can do likewise, choosing from Roberto Soldado, Jermain Defoe, Nacer Chadli, Erik Lamela, Aaron Lennon and Andros Townsend.

The above Spurs players all have a realistic chance of playing in the World Cup in Brazil next summer. Not all will make it, of course. Their country will lose in the playoffs, or they will fail to be selected in the final squad.

What's clear though, is that Tottenham will have plenty of representatives at the ultimate football tournament.

It might sound mean, but I wish that this wasn't the case. My fear is that one of our stars will have a brilliant World Cup and become the next name on the shopping list of Europe's giants.

Because the World Cup can transform a player's career. Six or seven good games on the ultimate showcase can see a player's value skyrocket and bigger clubs start sniffing round.

It's depressing to think that Spurs could lose more star players in the future, having just lost Gareth Bale, but it's unavoidable.

That's true regardless of whether Tottenham qualify for the Champions League this season. Gareth Bale admitted that he would have wanted to join Real Madrid regardless of whether Spurs finished in the top four, and who can blame him?

It's not just the money and the chance to challenge for trophies that's the pull. A club such as Real Madrid is on another planet in terms of size. Look at the scenes when Bale was unveiled at the Bernabeu. I was excited when Tottenham signed Lamela, but the chances of me traveling to White Hart Lane to watch him speak broken English and do a bit of keepy-uppy, would have been nil.

It's a sign of Spurs' progression that Real Madrid have bought their best players for the past two seasons. Not so long ago it was Manchester United who would cherry-pick Tottenham's stars, but it seems that the days of the club selling within the Premier League are over.

Yet if Real Madrid or Barcelona come calling, it has to be accepted that the player will almost certainly want to leave. I don't think it would be any different if Spurs were in the Champions League with a shiny new stadium, or even winning Premier League titles.

Manchester United weren't able to hang on to Cristiano Ronaldo, nor Chelsea to Arjen Robben when Real Madrid came calling. Back in the days when Arsenal won trophies, it didn't stop the likes of Nicolas Anelka, Thierry Henry, Marc Overmars, Emmanuel Petit and Patrick Vieira getting the first cab to Heathrow Airport when a European superclub was interested.

These sides have years of history and tradition on their side. Look at the situation in Germany. Borussia Dortmund could scarcely have been more successful in recent seasons. They won the double and then reached the final of the Champions League, but Mario Gotze still wanted to leave the club that developed him when he had the chance to join Bayern Munich. Next summer, Dortmund are likely to lose Robert Lewandowski to Munich, too.

Tottenham have a number of players good enough to play at that level of club now. Lloris, Vertonghen, Sandro, Paulinho, Eriksen and Lamela could all be targeted in forthcoming seasons.

What we can rely on is the club getting top dollar and making a healthy profit. As long as the money is reinvested wisely, there's absolutely nothing wrong with this business model.

After all, there will be supporters of Lyon, Ajax, Inter, Corinthians and Roma who have had to resign themselves to the fact that they cannot hang onto their best players when Spurs -- Spurs! -- come calling.

Football has a well-defined food chain and Tottenham have done very well to maneuvre their way toward the top.

They are not at the summit, though, and almost certainly never will be. That means that there will be similar transfer sagas to the one just endured and it might come as early as 2014.