Rose will need time if he's to fully bloom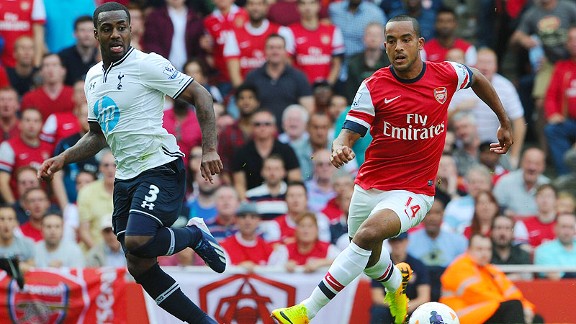 David Price/Arsenal FC/Getty ImagesSpurs' Danny Rose, left, learned a few lessons Sunday trying to keep up with Arsenal's Theo Walcott in the Gunners' 1-0 victory.
Slam! That was the sound of the transfer window shutting. I think that I can speak for all of us when I say "Thank heavens for that."

So with Gareth Bale having finally flown the nest and deadline day passing without any new signings, we have been granted the breathing space to evaluate the strengths and weaknesses of the squad.

The striker situation is a worry. If Roberto Soldado gets injured or loses form, Spurs are back to relying on Jermain Defoe and Emmanuel Adebayor. Neither looked up to it last season.

-Grantland: Understanding Spurs' project

Left back is the other obvious concern. With Benoit Assou-Ekotto having joined QPR on loan, Danny Rose remains as the only out-and-out left-sided full-back.

Jan Vertonghen can, of course, play left-back. I understand Vlad Chiriches can as well -- I know nothing of him, apart from what I've gleaned from watching his YouTube highlights video a dozen times.

More worrying, there's Kyle Naughton, who Andre Villas-Boas has already played at left-back this season. With the likelihood that the player in front of him will also be right-footed and inclined to cut inside, Naughton really shouldn't be an option here. And yet he is.

What's clear is Rose is the undisputed first-choice for now. Not everyone is happy about that, but I think that he's a player with some promise.

Rose is not the finished article and had a tough time against Arsenal's Theo Walcott on Sunday. I know that there's a lot of Tottenham fans who don't think he's good enough and plenty who consider BAE a better player.

Speaking of Benny, I can distinctly recall him being absolutely ripped apart by Freddie Ljungberg in a North London derby. Assou-Ekotto was pretty bad in his early days at Spurs and it was only when Harry Redknapp took charge and gave him regular starts that he started to grow as a player.

In order for a young player to get better, he must be given games. The problem Tottenham have right now is it's very difficult to patiently allow such players to develop while also competing at the top end of the Premier League.

Spurs don't have the resources to simply buy the finished product in every position, so young talent must be nurtured. The solution has been to loan out players to Football League clubs and Premier League also-rans. Those who most impress find themselves back in the first-team squad.

The current 25 contains players such as Naughton, Andros Townsend and Kyle Walker, who prospered elsewhere to earn themselves a shot at a future at White Hart Lane. Rose is another, having been widely considered as Sunderland's best player last season (I'm aware that being Sunderland's best player is akin to being considered the least wrinkly member of the Rolling Stones).

Only time will tell if Rose will improve, or remain the unfinished article. It's only time spent on the pitch and hours on the training ground that will allow Rose to iron out his positional flaws, and improve his final ball.

Players develop at different rates. Rose is still pretty young right now, at 23. Ashley Cole was considered a great talent at the same age, but Leighton Baines was not.

Rose has perhaps the most important tool for any modern full-back in his locker -- exceptional pace. That speed will allow him to get out of jail when his inexperience sees him out of position.

It's also vital to Rose's attacking forays down the left flank. In terms of getting forward, I'd say that he already offers more than Assou-Ekotto, who linked well with Bale, but struggled to provide the width when the team fielded Gylfi Sigurdsson or Clint Dempsey.

Rose has at least until January to make the position his own. It's not a long time, but should be long enough to tell whether this particular Rose will wither and die, or eventually burst into full bloom.