AVB should stash the carrot and bring out the stick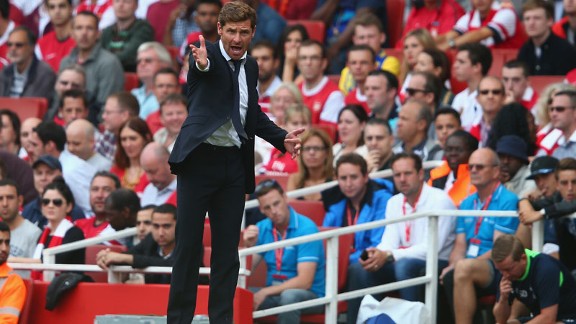 AllsportAndre Villas-Boas shouts at his team during the North London derby.
After any defeat, most losing managers choose to focus on the positives. So let's start there, following the 1-0 loss to Arsenal. Tottenham are very much a work in progress. With the Gareth Bale transfer to Real Madrid at last finalised and with seven new internationals added to the squad, it's going to take time for the team to find its own rhythm and style.

Spurs were able to paper over the cracks against the weaker opposition of Crystal Palace and Swansea, but their lack of bedding-in time was exposed against a Champions League team. The game against Arsenal came about three matches too soon.

- Fitch: Capoue injury could hurt more than defeat

Andre Villas-Boas could also say the game was a lot closer than the last two at the Emirates, which Spurs lost 5-2 and was settled by fine margins; Michael Dawson's misjudgment that enabled Theo Walcott to beat the off-side trap and cross for Olivier Giroud to score; the late efforts from Jermain Defoe and Roberto Soldado that were beaten away in a frenetic finale. Had one of those gone in, Spurs would have gone home happy.

But that's far from the whole story. This was a defeat that hurt the fans -- I know, I was there -- far more than it did the players. And that was the nub of the problem. No fan minds watching their team lose if the players have given their heart and soul for the cause. Yet for the first 70 minutes of this North London derby, it felt as if most of the Spurs team were sleepwalking their way round the pitch.

There was no passion; no intensity. The build-up play was slow, laboured and predictable. It felt like either most of the Spurs players had no idea of the importance of the fixture in the club's history, or they had come to believe the hype that this was a poor Arsenal side and that all they had to do was turn up and the men in red and white would eventually roll over.

They didn't. This may not be one of the best Arsenal sides, but they played with commitment. They were first to almost every 50-50 ball and several Spurs players ducked tackles; the missed tackles weren't important in themselves as they all took place -- or rather, didn't take place -- in midfield, but they did send out a resounding message to the Arsenal team that Spurs weren't really up for a fight.

Arsenal were also a great deal quicker. Spurs may have had more of the possession but Arsenal moved -- both on and off the ball -- at speed. On at least three occasions, it was only the brilliance of goalkeeper Hugo Lloris that kept Spurs in the game. Only in the last 20 minutes did Spurs wake up and compete. By then it was too little, too late.

Spurs' slow, methodical, build-up is also a matter of concern. In three Premier League games they have scored no goals in open play. You could argue the team has been unlucky on occasions and profligate on others. But you can equally make the case that opposition defences have found the Spurs' attacks too easy to predict and contain. Much as they often did last season, though the difference then was Gareth Bale. On the day the Welshman finally achieved his dream of playing for Real Madrid, his absence was keenly felt.

If this seems unduly harsh, it's not intended as such. Rather it's meant to be a slight corrective to the view that everything is bound to turn out rosy at White Hart Lane once all the new players have settled in. It may or it may not, but the last thing the club can afford is complacency.

I'm all for giving the new players time to settle in, but the old boys of the squad have to step up. Dawson had a bit of a shocker; Kyle Walker still has to show he has a footballing brain; Danny Rose was given a torrid time by Walcott; and Moussa Dembele went completely AWOL. Of last year's squad, only Lloris, Jan Verthongen and Defoe, when he came on as late substitute, had good games.

Six points out of nine is a decent enough start. Not least because only Liverpool have a 100 percent record. But this squad needs to find its shape quickly; the international break couldn't have come at a worse moment for team unity. On their return, AVB needs to give them a sharp reminder of what's expected. So far, he's been all carrot as the newcomers find their way. It could be time for a little more stick.