Capoue injury could hurt more than Arsenal defeat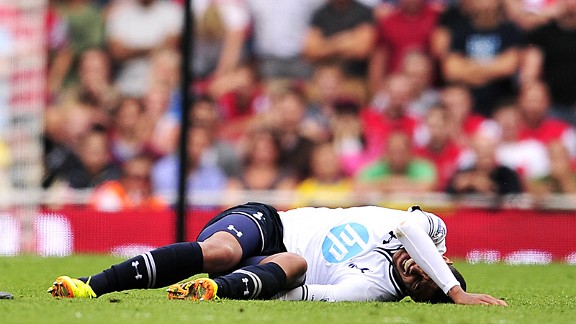 Glyn Kirk/AFP/Getty ImagesTottenham's Etienne Capoue left with what was reported to be a broken leg, which would be a big blow to Spurs' midfield.
It's been very easy for Tottenham fans to get carried away recently. Despite the loss of Spurs' best player, the new recruits have lifted the spirits to giddy heights.

Sunday will have brought everyone back down to earth. A squad full of talented players has been assembled, but there is a lot of hard work ahead before they can form a cohesive team.

Tottenham started fairly brightly, dominating possession, but failing to create real chances. I had expected Arsenal to take the game to Spurs and for Andre Villas-Boas' side to attack on the break, but the exact opposite occurred.

-Giroud's goal earns Gunners bragging rights
-It's over: Bale off to Madrid for record fee

Credit must go to Arsene Wenger for curbing his team's natural instinct to attack and to instead put players behind the ball -- a tactic that has frustrated Tottenham in their first two league games.

In boxing, one of the most difficult challenges you can present to a natural counter-puncher is to step back and let them come to you. Arsenal were able to sit deep, knowing that their opponents didn't have the personnel to deliver a knockout punch.

As was the case against Crystal Palace and Swansea, Roberto Soldado looked very isolated. The midfield trio of Etienne Capoue, Paulinho and Moussa Dembele failed to get in support of the Spaniard and Spurs' only efforts on goal came from long-range strikes from Andros Townsend.

Nevertheless, AVB's team looked like the side in control until a defensive blunder gifted Arsenal an opportunity on the break. Michael Dawson played Arsenal onside as the rest of the back four pushed up and Theo Walcott played the ball across for Oliver Giroud, who finished superbly.

You would hope that going behind would see Tottenham step up a gear, but sadly this wasn't the case. It was a strangely flat performance and Spurs looked more desperate than dangerous.

My big criticism of the central midfielders was they seemed so languid in possession. A much faster tempo was needed and I was disappointed the second-half substitutions didn't address that issue.

Tottenham's team shape was fine, so the move to a 4-4-2 was slightly baffling, especially as Jermain Defoe and Soldado are too similar in their instincts to form an effective partnership.

Suddenly Spurs looked far more vulnerable to Arsenal's counters and the game became stretched. Lewis Holtby seemed to be the obvious player to bring on for the ineffective Dembele, especially considering that the former Schalke midfielder had his best game for the club in midweek.

It also seemed strange to take off the effective Townsend for Erik Lamela, rather than Nacer Chadli, who had a poor game. Townsend could have switched to the left to give the team natural width. The merits of inverted wingers are obvious, but I'm not keen on playing two at the same time. It so often results in the central areas becoming congested.

Lamela didn't have long to influence the game, but the few touches he did have whetted the appetite for what we might expect.

At the same time as Lamela was brought on, Sandro replaced Etienne Capoue in midfield, after the French international suffered an injury. Initial reports said he has a broken leg.

Ultimately the changes didn't result in an equaliser. Defoe came close with a deflected shot, Soldado had a powerful shot blocked and Kyle Walker did an almost perfect impression of Charlie Brown attempting to kick an American football, but only finding fresh air.

In truth, Arsenal should have won by more than one goal and Spurs can thank the heroic Hugo Lloris for keeping them at bay. He was the best Tottenham player, which says a lot.

No Spurs fan is ever going to enjoy losing a North London derby, but it's hard to get too worked up about this defeat. The lack of creativity is the obvious problem in the side and hopefully that has already been addressed by the signings of Lamela and Christian Eriksen.

This derby came unusually early in the season and it told. It felt like something of a dress rehearsal for the true battles that are yet to come. The injury to Capoue, rather than the result, looks to have the most significant impact on the rest of the season.