Places to fight for against Dinamo Tbilisi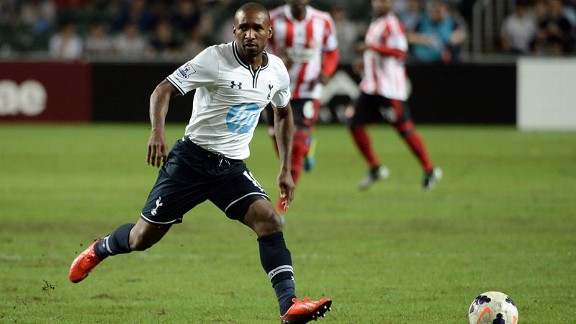 GettyImagesJermain Defoe is in need of valuable game time
Interest continues to be focused on what's going on off the pitch. When -- not if -- will Gareth Bale leave for Real Madrid? Will Spurs fine Bale for missing training? Will Spurs finalise the deals for Lamela, Eriksen and Chiriches? What is Hulk doing in London?

On the field it's all been rather more low key. Two satisfactory, if not exhilarating, 1-0 wins in the Premier League and a 5-0 destruction of a below par Dinamo Tbilisi in the Europa League. Tonight, the attention returns to the football with the small matter of the return home leg against Dinamo.

And it should be a small matter. It would need a miracle -- along with a great deal more enthusiasm and ability than the the Georgian side showed in the first leg -- for Dinamo to begin to threaten an upset, and with the big derby game against Arsenal at the Emirates coming up on Sunday, it would be understandable if the manager and players operated on cruise control with damage limitation being the watchword. No one taking too much out of themselves. No reckless tackles that could result in long-term injuries.

Generally, though, when Spurs have gone out with this mentality in the past, it has backfired badly. Opponents have sensed the players aren't quite switched on and have taken advantage. Not to the extent of affecting the outcome of the tie, but by putting Spurs under unnecessary pressure. Chasing a game -- playing catch-up -- is always more physically and mentally tiring than setting out to boss it from the kick-off.

For this reason, Andre Villas Boas is unlikely to send out a below-strength team against Dinamo. There will be changes from the side that beat Swansea, but it would be hard to say that the one facing Dinamo will be much weaker. For one thing, the squad now has so much depth; for another, it's far from clear that AVB knows exactly what his strongest starting XI actually is. Only three out of Sandro, Dembele, Paulinho, Capoue and Sigurdsson can play at any one time; and if Lamela and Eriksen are signed before September 2, then AVB will be perming three out of seven in midfield for every game.

This also means there's plenty at stake as there are few players who can regard themselves as certain first-team picks. Impressing AVB is every bit as important to them as finishing Dinamo off. Two who definitely won't be playing are Aaron Lennon and Benny Assou-Ekotto. Lennon's injury, picked up against Palace, couldn't have come at a worse time for him. Not only was it a reminder of his fragility -- he generally misses a third of the season through injury -- but it has also given Andros Townsend a chance to shine. And how. On the back of two good performances, Townsend now finds himself picked for the England squad for the upcoming World Cup qualifiers. You could also argue that you don't have to do much to get an England call-up these days, but that's another issue.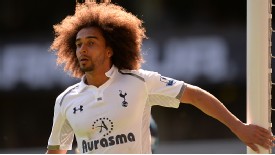 GettyImagesBenoit Assou-Ekotto has become a firm favourite among the fans but may now be sold.
Assou-Ekotto's is a sadder story. The official line is that he is injured, but it's hard to decipher whether it's a genuine or strategic injury. Either way, he seems to have fallen out of favour with AVB and no one would be too surprised if he left the club. No Spurs fan would relish that as Benny has become a Spurs legend; and not just for his hair-cut. True, he had a difficult season last year, but then his familiar link man on the left, Bale, stared playing more through the centre and on the right. The understanding Bale and Essou-Ekotto had forged together was lost.

Perhaps the most obvious change AVB could make tonight would be to rest Lloris and give Brad Friedel a game. This has its logic, but is fraught with danger. Friedel and Lloris have very different styles. Friedel likes to stay close to his line and allow defenders to clear high balls; Lloris dominates the area, scattering attackers and defenders alike. It's taken time for the Spurs central defence to adjust, but the signs are that Verthongen, Dawson and Kaboul are all now used to Lloris' style. And they feel more comfortable with it. If ain't broke, don't fix it.

The key change AVB should make tonight is to play Defoe up front. Soldado doesn't need the rest; he has the natural striker's mentality of believing that any energy used other than to score goals is energy wasted. But Defoe does need the game time. And Spurs need him to do. He is still a class act and AVB must show he values him. Defoe can get you 15 goals a season. You don't want to undermine that kind of talent. Defoe to start and score? That would be the best result Spurs could hope for.