Spurs ready to embark on a wonderful journey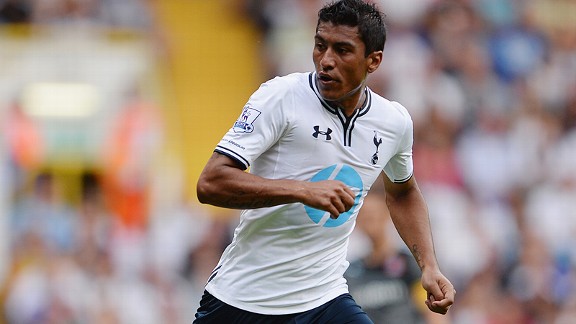 GettyImagesPaulinho is part of a formidable Tottenham midfield.
Two games. Two 1-0 wins. Both decided by a Roberto Soldado penalty.

Imagine if every game in Tottenham's Premier League season continues in this vein. Played 38, won 38, drawn 0, lost 0. For 38. Against 0.

It doesn't sound much like Spurs, does it? Grinding out 1-0 wins is not really in the club's DNA, but then Tottenham have never quite had a team like the one that Andre Villas-Boas has built.

Crace: Willian replacement required

Spurs have so much power and strength in midfield that the defence is being protected like never before. Throw in the fact that the back four itself looks pretty solid and that Hugo Lloris is the Premier League's outstanding goalkeeper, and you have a recipe for clean sheets.

At this point it doesn't look like the team is equipped to score many goals, but that should change in the passing weeks.

Tottenham definitely need a more creative presence in central midfield. This is especially true when playing the teams that Spurs are expected to beat.

I'd be very surprised if another wide player (Erik Lamela hopefully) and a central midfield playmaker weren't recruited before deadline day.

Yet I still think the team can prosper when fielding any three from Etienne Capoue, Moussa Dembele, Paulinho and Sandro. Against sides that fancy their chances and will attack, Spurs can field a midfield trio that are perfectly set up to protect the defence, then spring swift counterattacks.

The key might be to get Paulinho further forward and into more goal-scoring positions. Dembele is ill-suited to a more advanced role and seems much more comfortable when he's deeper. It is sometimes baffling to think that he ever played as a striker.

So I'm perfectly happy for Tottenham to go into next weekend's North London derby without that creative presence in midfield, even if we know that long-term it is a definite requirement.

Let Arsenal attack and hit them on the break by surging with the ball from midfield, or down the wings where Spurs possess incredible pace.

There will be no one to pick the Arsenal defence apart with a perfect through ball to Soldado, but I think we're learning that he is a player who doesn't need a lot of chances to get on the scoresheet.

In the three matches Soldado has played in a Tottenham shirt, his involvement in the general build-up play has been minimal, but four goals in those three games tell the story.

Watching him against Swansea, it struck me how little movement he makes. He moves when he has to, but he's not wasting his time and energy running the channels.

In that sense he is the perfect antidote to any Spurs supporters who found themselves frustrated by Emmanuel Adebayor's tendency to drift wide. Soldado has no time for such tomfoolery. He is focused on scoring goals and nothing else. Therefore he remains in the area where he's most likely to be presented with chances.

One of my few remaining worries with this squad is what happens if Soldado gets injured. Adebayor seems to be completely out in the cold, while Jermain Defoe is always more welcome coming off the bench than he is in a starting lineup.

These days, though, my concerns with the squad amount to not much more than small potatoes. I remember the days when Andy Booth was being presented as the solution to Tottenham's striking problems.

There are still concerns about this squad, but they are slight ones. We know more players will arrive and that the club are taking this transfer window very seriously. There are no half-measures being taken.

What's more, Spurs are picking up solid results along the way. Trust me, these are wonderful times to be supporting Tottenham Hotspur. We're going to have a blast this season and those saps who don't want to come along for the ride (I'm talking about you, Mr Bale), are going to miss a wonderful journey.