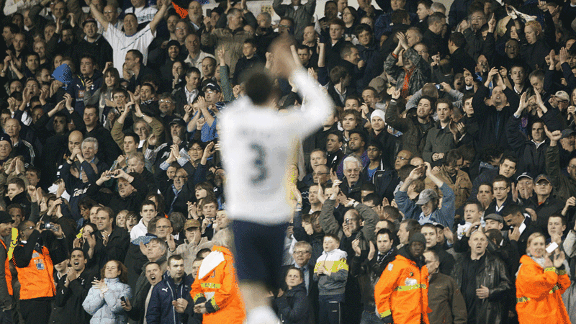 AllsportGareth Bale has finally waved goodbye to Tottenham.
The most anticipated and most expensive transfer of the summer has finally been done. After weeks of negotiations, Gareth Bale has been sold to Real Madrid for a sum believed to be €100 million. The fine details have yet to be disclosed, although the inside rumours were that Madrid were holding out to pay in three installments, while Spurs wanted just two. I'd guess that was a sticking point Spurs chairman Daniel Levy won.

In fact, Levy has played a blinder throughout a transfer that seems to have been drawn out at his own bidding. The Spurs chairman wanted to get the rest of his squad in place before confirming Bale's big-money deal so that Roma et al couldn't hold him to ransom over his own transfer activities. Also, by delaying the move for so long, he's made it very tricky for Arsenal to sign the likes of Karim Benzema and Angel di Maria from Real by the close of the transfer window on Monday.


However, only a couple of months ago, the transfer had appeared unlikely. Bale had several times reiterated what a great team Spurs were and how much he enjoyed playing for them in the early weeks of the close season, an action wholly inconsistent with someone pressing for a move. But that all changed when Bale then jetted off to Marbella last week and proclaimed his desire to join Real Madrid.

It's the quiet ones who make everyone nervous. Players who initially refuse to make comments to the media and say nothing out of a desire not to alienate management and fans are the ones who are thinking of leaving. Bale also looked happy and relaxed in the first preseason friendly at Swindon, waving to the crowd and scoring the only goal in a 1-1 draw. That was his last goal for the club.

Some Spurs fans were in denial when the Bale-to-Real reports emerged. Every time a piece appeared anywhere in the media discussing the Bale saga, there would be a backlash on the Spurs message boards. No one at Real had been talking to anyone at Spurs, and journalists were inventing the whole story. Well, it turned out the two clubs were talking to each other, and journalists weren't making up the story.

Sometime around the end of July, Bale's head was turned. Most likely by his agent, Jonathan Barnett, who reckoned that this was Bale's time to cash in. The Welshman had just completed the season of his life, and Real, one of the few clubs with the resources to pay a record fee, had finished a wretched season. Their influential fans were begging the team to make a number of big-name signings. Put all this together, and Barnett reckoned he might never get this kind of silly-money deal again; he was almost certainly right.

Is Bale worth the money? Only in the distorted world of the elite clubs with almost bottomless pockets. To everyone else it is ludicrous. Can Bale really be worth three Roberto Soldados and five Paulinhos? Of course not; especially as one bad injury or loss of form could halve his value within six months. Levy didn't want to sell his star player, but with Bale having a sulk and refusing to train or play and with silly money on the table from Madrid, the deal was always going to happen.

Spurs will miss Bale. There's no doubt about it. How could a club not miss one of the world's best players? As a season-ticket holder who also travels to more than half the away games, it's been a joy and a privilege watching Bale over the past three seasons. I've seen some great players at White Hart Lane over the years, but I've come around to the conclusion that he's the best of the lot. He can do everything. He can run, he can shoot, he can head the ball and he can tackle.

Whether Spurs will have a better season without him is a trickier matter. Over the course of the summer, Andre Villas-Boas has strengthened the squad considerably. In came Soldado, Paulinho, Nacer Chadli and Etienne Capoue, to name but a few.

The last-minute loss of Willian, who was expected to sign for Spurs, to Chelsea had all the hallmarks of pique. Chelsea have an abundance of attacking midfielders, so Willian will be lucky to play one game in three, and neither Roman Abramovich nor Jose Mourinho could bear the prospect of Spurs assembling a squad that might threaten them, especially one managed by another Portuguese. So Willian's signing appeared to be a blow to Spurs, but then in came Christian Eriksen from Ajax and Erik Lamela from Roma, as it became obvious Spurs were eager to sign that last piece of the jigsaw: a Bale replacement to play behind Soldado.

It was also undeniable that the free-roaming role that Bale was given last season did cause Tottenham problems. For all the goals and points the Welshman picked up last season, his licence to rove did create issues elsewhere in the team. Benoit Assou-Ekotto and Scott Parker had their worst seasons for the club, and Jermain Defoe and Emmanuel Adebayor were often left isolated and out of position up front. This wasn't a coincidence. On the basis of the two competitive games this season -- in particular the 5-0 away win at Tbilisi -- this current squad are fitting together much better. Players seem to understand how they are meant to play and what positions to run into.

But catering to Bale's departure and ironing out last season's problems does not mean Spurs will be better than before. Because even if the club does have an annus mirabilis without him, there will be that underlying feeling at the club of "How much better might we have been if Bale had stayed? Imagine if AVB had managed to shape a team with Bale alongside Soldado, Paulinho, Chadli, Capoue and fit-again Sandro and Younes Kaboul?" That question will haunt White Hart Lane for much of the season.