As Spurs squad gets stronger, Sigurdsson must shape up or ship out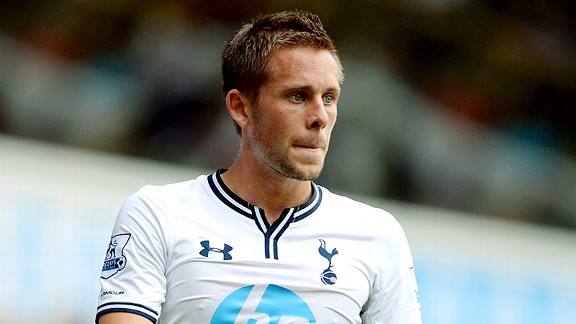 Michael Regan/Getty ImagesWith competition fierce in the Tottenham midfield, Gylfi Sigurdsson must step up his game should he want to stay at Spurs.
Sunday's display was a positive one, so there was really no need to single out those who had underachieved.

However, with Spurs likely to strengthen their squad further, there are certain players who have to put on a show when given the chance. Otherwise, they might be waiting three or four games for their next opportunity to impress.

- Crace: The Spurs paradox
- Transfers: Shirty business to lure Bale to Madrid

One such player is Gylfi Sigurdsson. I'd say that the Icelandic midfielder was Tottenham's weakest performer against Crystal Palace. He wasn't terrible, but it was only his odd mistakes that stood out and grabbed your attention, rather than the quality of his play.

Sigurdsson missed a great chance to put the game to bed in the second half. There's no disgrace in that, of course. Even the best players miss chances. It's just that Sigurdsson needs to capitalise on such opportunities if he wants to retain his starting spot on the team.

With Paulinho and Moussa Dembele behind him, it was Sigurdsson who was given the task of providing some creativity and linking up with Roberto Soldado. He didn't provide the answers needed, as Spurs struggled to break down the hard-working home side.

It was a familiar tale for Sigurdsson. He was much improved in the second half of last season, when he started to prove just why he'd been brought to the club. Yet those performances largely came on the left side of midfield, rather than the central berth he enjoyed at the weekend.

I've yet to really see a dominant performance from Sigurdsson in a central position. He began to shine at Tottenham when Gareth Bale was switched to the centre and he was given the less pressurised spot on the flanks.

When playing on the left, contributing to the build-up play and weighing in with the odd goal is good enough. In the No. 10 role, more is expected. The bulk of the attacking play should be going through this player. It is he who should be delivering the killer balls if Spurs are going to get the best from Soldado.

The club are heavily linked with a move for Willian at the time of writing. Like Sigurdsson, he can play centrally and on the left. Throw Lewis Holtby -- who can do likewise -- into the mix and you have real competition for places.

I think that we're going to see any two of Dembele, Paulinho, Etienne Capoue and Sandro most weeks, and sometimes it will be three from those four. That doesn't leave many opportunities for Tottenham's collection of attacking midfielders, to whom you can also add Tom Carroll's name.

So can Sigurdsson step up and meet the challenge? I'm not sure, to be honest. Last season, he did enough to convince me that he'd have a major part to play this term, but I wasn't anticipating that the club would spend this summer as if all of their lottery numbers had come up (which is kind of close to the truth, if Bale is sold).

The stakes have been raised, and certain players need to step up to the plate, or they will find themselves at a destination as unlikely as the Hull City Tigers or the Seattle Sounders. Sigurdsson is not alone here. Holtby is another who needs to prove that he shouldn't be surplus to requirements.

If that sounds a harsh judgment on two players who only joined the club last season, it is. To use a football cliche, the goalposts have shifted.

For Sigurdsson, it may come down to whether he has the mental fortitude to accept the challenge and the responsibilities that lie within his favoured position. He's never going to be as skillful as potential signings like Willian or Erik Lamela, but he has everything in his locker to be effective in the same way that Frank Lampard has been for Chelsea.

The time for Sigurdsson to deliver is now. Being a young player with plenty of promise is no longer going to cut it. The brutal truth for every Spurs player right now is that they must shape up, or be prepared to be shipped out.