Triumphant Spurs can get a whole lot better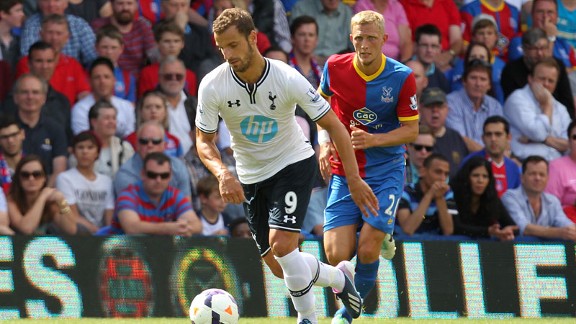 AllsportRoberto Soldado made a goal-scoring debut for Tottenham.
When Spurs won a penalty early in the second half, I asked my 3-year-old daughter if the man taking the shot at goal was going to score.

"No, Daddy," she replied. Obviously her DNA contains a healthy dose of pessimism when it comes to Tottenham. I can't think from whom she might have inherited that.

Yet unusually, I had no doubts whatsoever that the penalty would be converted. Roberto Soldado didn't look as if he was going to miss for a second. How refreshing, after having to witness Tom Huddlestone stepping up to the spot last season, with a look that suggested he was walking toward the hangman, rather than simply being asked to score a goal from 12 yards.

- Soldado spot-kick seals win
- Holloway sees rough ride with refs
- Jan Vertonghen bemoans lack of goals

Not that the match was entirely without caution. The opening day of the season is always tough when a team has several new signings finding their feet, and Selhurst Park was absolutely rocking as the Crystal Palace supporters welcomed their team back to the Premier League.

The debutants fared well. Soldado looked a major upgrade on Spurs' striking options last season, as you might expect from a record signing. Nacer Chadli looked promising, while both Paulinho and the second-half substitute Etienne Capoue both enjoyed a good first game.

Not quite making his debut, but still returning after time away on loan at Sunderland, was left-back Danny Rose. He, too, shone brightly, buzzing down the touchline when going forward and looking solid at the back, with his pace proving to be a real asset more than once.

Another man whose fleetness of foot was vital in Spurs keeping a clean sheet was Hugo Lloris. You really couldn't ask for a more effective sweeper-keeper. His interventions were crucial, behind a central defensive partnership of Michael Dawson and Jan Vertonghen, who lack real speed.

With all these fine performances, you might think that Tottenham won at a canter, but that wasn't the case. This was a hard-fought victory and Spurs struggled to create many real chances.

Gylfi Sigurdsson missed a great chance to put the game beyond doubt. A lovely pass from Kyle Walker put Soldado into space and the Spaniard was unselfish to tee up Sigurdsson, who could only shoot wide.

Late substitute Jermain Defoe also missed an opportunity that he should have converted, but in his defence, it was a chance that he created for himself, having shown skill on the edge of the box.

Other than those efforts and the penalty, Tottenham were reduced to long shots from outside the box. The midfield lacked the guile to break down an energetic Palace side that put plenty of men behind the ball when not in possession.

It was a familiar story that follows on from last season. Had Soldado not put Spurs ahead so early in the second half, then we might well have seen Tom Carroll brought off the bench. Right now he seems to be the only midfielder within Tottenham's ranks who is capable of such incisive passing.

The team were also guilty of dwelling on the ball too long, both in central midfield and quite often on the right flank. Players like Carroll and Lewis Holtby will bring snappier passing to the side. It would be a surprise if another midfield playmaker isn't added to the squad before the season ends.

That's not to say that Spurs can't win games this season when perming any three from the powerful quartet that is Capoue, Moussa Dembele, Paulinho and Sandro. Against the better teams that attack more and enjoy greater possession, that sort of midfield selection will provide a solid, powerful base from which to counterattack.

These are minor grumbles on a happy day for Tottenham. The club have a poor record from opening fixtures, so to win away from home in any circumstances, is a feat worth celebrating. Spurs already have more points after one game than they gained in their first three last season.

A good start has been a long time coming. This was an impressive first performance and what's exciting is that this team can get a whole lot better. If he's still knocking around come September, there might even be room to squeeze in Gareth Bale somewhere.