Does it matter if there are no English players left at Spurs?
During Tottenham's preseason friendly against South China, television commentators were discussing the number of English players on the Spurs squad. They held Tottenham up as an example of the type of team England manager Roy Hodgson must love to watch play, due to the sheer number of players available for his selection.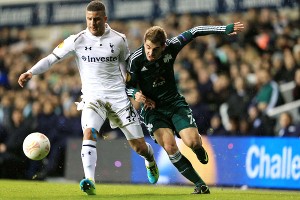 Richard Heathcote/Getty ImagesKyle Walker, left, could be the lone regular English player on Spurs to start the season.
Just a few weeks later, White Hart Lane looks like a much less desirable destination for Hodgson. Steven Caulker was sold to Cardiff, while Tom Huddlestone and Jake Livermore have moved to Hull.

At the time of this writing, it also looks certain than Scott Parker will leave the club imminently. That would leave Spurs' first-team squad with just eight English players -- Tom Carroll, Michael Dawson, Jermain Defoe, Aaron Lennon, Kyle Naughton, Danny Rose, Andros Townsend and Kyle Walker.

- Bale ruled out of opener
- Capoue completes Tottenham transfer

From that list, no one would fall down with shock if Defoe was sold or the likes of Carroll and Townsend were sent out on loan. Tottenham could end up with a squad that contains even fewer English players than Arsenal.


Does the dwindling number of English players at Spurs and other clubs matter? Absolutely, and not just because of the effect it has on the English national team.

The Premier League has gone global in every sense, yet the football played is still unmistakably English. That, rather than the number of global stars, is the reason the Premier League is so popular around the world. Barcelona and Real Madrid may have the game's better players, but the Premier League remains a bigger global draw than La Liga.

Why is the English game still so fast and frenetic despite the fact that the majority of players come from abroad? The crowds, who have grown up expecting to see such action, play a huge part. So too do the core of British players that exist at each club.

Those players are the ones who have the traditions of their clubs closest to their hearts and dictate their culture. The same is true of the Spanish contingent at Barcelona and the Germans at Bayern Munich.


When you look at the best Champions League-winning sides of recent years, you'll notice that the majority of them have a core of homegrown players in their lineup.

It's not just on the pitch where it matters either. There is nothing a football crowd loves more than a local boy made good. The same is true of any team sport played anywhere. It acts as an inspiration and adds to the shared identity of a club between those on the pitch and those watching.

For many years during the Daniel Levy regime, Tottenham have made an effort to sign good young English players. So why have none been signed this summer, at a time when the club is shedding the ones it has?

For one, management has decided to spend a huge sum of money during this transfer window to make the team more competitive. There just aren't many English players who could make Spurs better, and none of the ones who could are available.

For all the talk of Wayne Rooney leaving Manchester United, the highest amount paid for an English player during this transfer window was the £15.5 million that West Ham spent on Andy Carroll. After that you're looking at the likes of Stewart Downing, Gary Hooper and Jonjo Shelvey.

Then when you analyse last season's squad, you start to realise how few English players were actually a crucial member of the team. Walker looks to be the only one more or less guaranteed to be a first-choice pick this season.

It's no surprise then that it has largely been English squad players who have been released. In an ideal world, I'd like to think that moves will be made to gradually up this quota.

At this point, the club should just buy the best players, regardless of nationality, while looking to simultaneously develop young English talent who can break into the squad in the future.

Yet as Spurs grow stronger and English football's production line seemingly becomes weaker, this might prove a difficult balancing act. We'd all better get used to English players being a rarity at one of England's most famous clubs.