Error ridden Spurs suffer the baby Blues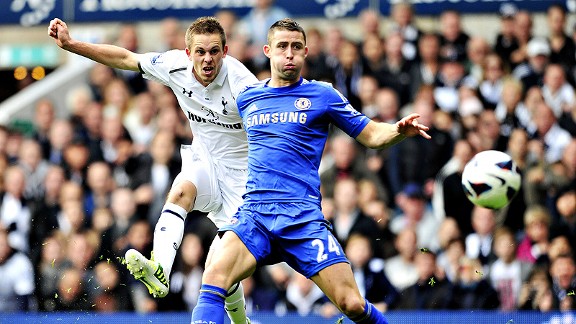 Glyn Kirk/AFP/Getty ImagesAgainst Chelsea, Gylfi Sigurdsson looked out of his depth.
It says much for the lifestyle of Gareth Bale that I had no idea that he even had a girlfriend, let alone one imminently due to give birth. Bale seems a pretty grounded character, so I don't expect him to do a Raheem Sterling and father another one in a couple of month's time -- good news for a Spurs team that really missed him yesterday.

There are two school of thoughts when replacing an unavailable player. The first is to replace him with as similar a player as you have at your disposal in order to maintain the balance of the team.

The other option is to bring in as good a replacement as you have at your disposal and change the shape of the team to accommodate the replacement. That's what Andre Villas-Boas did when faced with the absence of Bale. Gylfi Sigurdsson started in an advanced midfield role, shifting Clint Dempsey to the forward line where he and Jermain Defoe rotated between the centre and the left flank.

Personally I would have rather given Bales spot in the team to Andros Townsend. While it's true that Townsend is relatively untried at the Premier League level, he's the closest we've got to a direct replacement for Bale.

One of the reasons that I went into this match with a whistle at my lips rather tha half-bitten nails was because I was confident that Bale and Aaron Lennon would cause big problems for Chelsea's full-backs. With Oscar, Juan Mata and Edin Hazard all inclined to drift infield, I foresaw a lot of situations where our wingers would be on-on-one with their full-backs. Just ask Maicon how that turns out.

Without Bale we were robbed of one of these outlets, while his replacement Sigurdsson once again had a quiet game. The Icelandic international was brilliant at Swansea last season but is struggling to repeat that form on a bigger stage. Like all new players he should be given time, but it has to be said that right now the decision to bring in Sigurdsson and sell Rafael van der Vaart looks questionable.

To be fair to the Icelandic midfielder, he wasn't the only player to come into the team and fail to impress. Tom Huddlestone is the best option we have in central midfield when Moussa Dembele is unavailable, but he still doesn't look anywhere near back to his best having been out with a long-term injury.

Against a side like Chelsea, everyone needs to be on their game and we simply had too many players who had an off-day. Alongside Sigurdsson and Huddlestone, you can also add Kyle Walker, William Gallas and Clint Dempsey to the list of players who had poor games.

All of the four goals we conceded were avoidable. Gallas made weak clearances that fell to a Chelsea player for both the first and second goals with Jan Vertonghen caught out of position for the equaliser. Gallas might have also reacted quicker to cut out the through ball for their third goal, while Walker's careless giveaway was responsible for the fourth.

Chelsea have so many good attacking players that teams of any calibre will be punished when making these kinds of mistakes. I wasn't blown away by the Blues, mind you, and dont expect them to win the league. They were very open and Tottenham was able to create plenty of chances despite not playing particularly well. Chelsea were the better team and worthy winners, but on another day the result could have been different.

The player who could have made that difference was Bale. He's just played two blinders for Wales and if he hadn't been scoring off the field some nine months ago, he could well have been on target at the Lane yesterday.