Five steps for Spurs success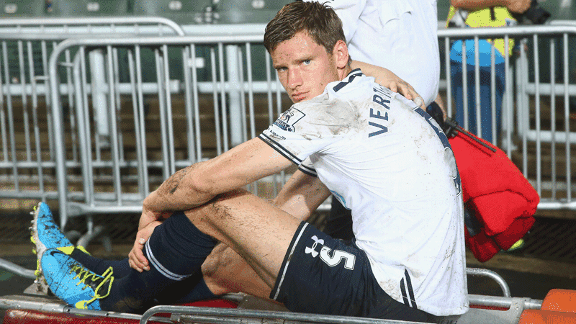 GettyImagesJan Vertonghen could make a return from injury sooner than first thought.
The pre-season is over and we're now less than a week away from Tottenham's opening Premier League match against Crystal Palace.

Despite the now incredibly boring Gareth Bale transfer saga still bumbling on, Spurs look much better prepared for the season start than it has for quite some time.

Of course though, there are still plenty of dilemmas that need to be answered before the start of September. Here are five issues that Tottenham need to address.

5. Buy a new central defender

With Michael Dawson returning to the starting lineup against Espanyol and Younes Kaboul coming on at half-time, it looks as if Spurs will have two fit and experienced central defenders lining up against Crystal Palace.

The injured Jan Vertonghen is also expected to return a little earlier than was first suggested, but it is unrealistic to expect this trio to carry Tottenham through an entire season.

Some have suggested that Etienne Capoue will be the man the provide an extra bit of cover, but I think that he has been bought purely to provide competition in midfield. It might not come before the start of the season, but I fully expect the club to buy a new centre-back soon.

4. Learn to defend corners as quickly as possible

I've written about Spurs' inability to defend corners recently and it is an issue that Andre Villas-Boas is clearly trying to address. Saturday's game against Espanyol saw the team switch to a zonal marking system, rather than the man-marking system that the defence seem unable to make work.

The results weren't pretty. Espanyol scored their equaliser from a corner and could have had more goals from this route. Tottenham need to get to grips with this new system fast, or they'll continue to concede unnecessarily.

Unfortunately, this might well prove to be an issue that won't get solved overnight. History tells us that the zonal marking system can take a while to adapt to. Remember Liverpool under Rafa Benitez?

3. Sort out the left-back position

I've been impressed with Danny Rose during pre-season, but it's clear that he's more comfortable when going forward than defending. Of course, Rose is still young at 23 and only playing time on the pitch is going to help him become accustomed to his defensive duties.

I expect Rose to be a part of the squad next season. The only question is how much faith AVB will show in him. If he's the first-choice left-back then the club needs to recruit some back up. I'm not sure Fryers is the answer there yet and he'll probably be loaned out to gain experience in the lower leagues, while Benoit Assou-Ekotto looks destined to be sold.

Or will a more senior left-back be recruited, with Rose relegated to a squad player? His height could prove an issue to Villas-Boas, who seems to be building a team of hulking powerhouses.

Either way, it's important that Spurs move on from using Kyle Naughton as a sometime left-back. This is especially true if Nacer Chadli is playing on the left, leaving the team without any natural width on that side.

2. Find the creativity in midfield

Last season Tottenham lacked guile in midfield and often struggled to break down teams that were determined to defend. The likes of Paulinho and Capoue will certainly strengthen Spurs' midfield, but they won't address this issue.

Again the question is whether the club already has the talent within the squad or need to spend. I'm not sure whether Lewis Holtby, or Gylfi Sigurdsson are the type of player who could ever develop into real playmakers. I'm more positive about Tom Carroll, but it remains to be seen if the diminutive youngster will be given a real chance on the big stage.

1. Start to chop the deadwood

Spurs have bought well this summer and now is the time to start offloading the players who have passed their use-by date.

As previously mentioned, it looks like Assou-Ekotto will go. The squad is also top-heavy with midfielders, so Tom Huddlestone and Scott Parker will be sold, while Jake Livermore could also depart.

The striker situation is a conundrum. Jermain Defoe is an interesting option from the bench, but less inspiring as back up to Roberto Soldado. Emmanuel Adebayor is more capable, but will probably be even less motivated than last season now he's no longer a first choice.

In an ideal world they'd both go and another striker would be signed, but maybe signing two strikers in one summer might be too much to ask for.