Five years after Berbatov, Spurs finally fill the gap with Soldado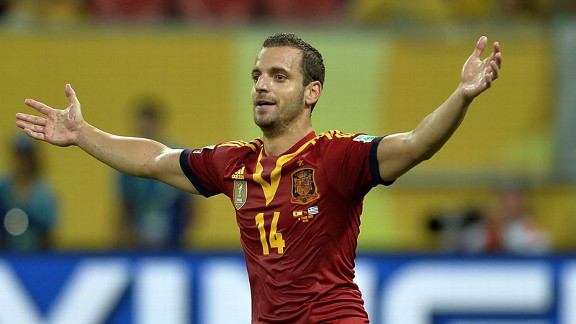 GettyImagesOnly a medical stands in the way of Roberto Soldado and his move to Spurs

2008: The summer when Dimitar Berbatov left Spurs. Five years later, the club might have finally found a replacement.



You'd hope so considering that Tottenham have paid £26 million to bring Roberto Soldado to the club. Having sold Berbatov for £30 million, it has taken some five years and almost the same fee to recruit a player who can be mentioned in the same breath.

- Crace: Spurs can begin pre-season

On the day that Berbatov left, Spurs brought in Roman Pavlyuchenko. He was overpriced at £14 million, with Spurs having to pay over the odds, due to Spartak Moscow knowing that they were desperate to land a striker to replace the departing Bulgarian and the recently sold Robbie Keane.

Pavlyuchenko never looked good enough. While a capable finisher, he was unable to link up play, nor move intelligently enough to prove a real menace as a poacher.

The loan signing of Fraizer Campbell following Berbatov's departure looked like a move made in panic and proved to be just that. When Juande Ramos was sacked -- after a disastrous start to the season that was in part due to the lack of options up front -- Harry Redknapp took charge and started his own search for a player capable of replacing Berbatov.

Keane and Jermain Defoe were bought back to the club. The former looked a shadow of the player that left, while the latter was never quite top class in the first place. The same could be said of Peter Crouch - another Redknapp signing.

Emmanuel Adebayor looked closer to the real deal during his loan spell, but struggled to replicate that form when he was signed permanently last summer. Every transfer window Spurs fans thought the club would surely act to solve the obvious problem in the team. Each window slammed shut with those supporters being left disappointed.

Now the club have smashed their transfer record by recruiting the 28-year old Spanish international.

There is no way in the world that a club as financially cautious at Tottenham would spend so much money on a player whose value is only likely to deteriorate, unless they were almost certain that he would deliver.

Of course, there are no guarantees with any transfer. Some time before Dimitar Berbatov was signed, a certain Sergei Rebrov was supposed to be the man to fill the gap left by Jurgen Klinsmann and then Teddy Sheringham. We all know how that turned out.

Yet only the biggest pessimist could deny that the omens look very good with this signing. This is a player who has scored 81 goals in 141 appearances during his Valencia career. Only Cristiano Ronaldo and Lionel Messi have scored more goals in Spain over the last three seasons. He's deadly enough to have made the Spanish national team actually think it's worth playing with a striker.

When you consider how close Tottenham have come to achieving their goals over the last couple of seasons, then the addition of Soldado looks a very exciting one.

Daniel Levy often receives a lot of criticism from Spurs fans, but he has broken the club's transfer record twice this summer and we're still only just in August. Whatever happens between now and September, he and the Tottenham management should be applauded for pushing the boat out, even if it did take them five years to take that chance.