Money banked, now Spurs can begin pre-season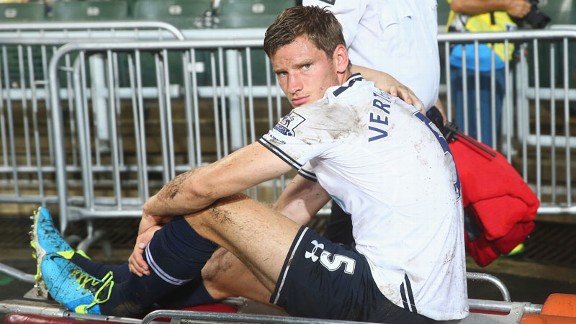 GettyImagesKey defender Jan Vertonghen faces a battle to be fit for the start of the season after getting injured on Spurs' trip to Hong Kong.
The plan is meant to go something like this: The players report back in early July for some conditioning work to shake off the summer sloth. They then play a couple of friendlies at walking pace -- or flat-out for some of the slower members of the squad -- during which they do a lot of waving to the crowds and showing off new tattoos. After a couple of weeks or so, the training and the practice matches become rather more intense so that by the middle of August, everyone is near enough match-fit for the start of the new season.

So where exactly did the recent weeklong trip to Hong Kong for the Barclays Asia tournament against Manchester City, Sunderland and South China fit into Spurs' preparations? Your guess is as good as mine. The purpose of the Hong Kong jaunt was always primarily financial. Southeast Asia is a growing market for Premier League football, with the TV rights having been sold for £3 billion, and the Premier League is under pressure to get clubs to meet and greet in its new territories. A weeklong trip in preseason checks off all the right brand-building boxes.

- Caulker heads to Cardiff

The problem lies in the timing. Were Premier League clubs to play these overseas tournaments at the end of the English season -- Spurs went off to the West Indies at the end of May, so there is a precedent -- then there would be no harm done. Especially in the years when there are no international tournaments over the summer. The players might be tired, but they would be in better shape than they are in July, and the overseas fans would get to see a higher standard of football than the one they got in Hong Kong.

It also would help, of course, if these tournaments weren't arranged in the middle of the monsoon season. The torrential rain that dogged every game in Hong Kong was anything but unexpected and meant that the pitch was virtually unplayable. Games were reduced to 40 minutes a half and probably would have been canceled entirely had the TV rights to the mini-tournament not been an integral part of the deal. Of far greater concern to Spurs than the 3-1 loss to Sunderland in the opening game was the injury to Jan Vertonghen, who sprained his ankle ligaments while slipping in the mud.

Vertonghen is one of the team's linchpins -- last year's player of the season after Gareth Bale -- and the news that he will struggle to be fit for the opening Premier league game against Crystal Palace will give everyone at White Hart Lane an anxiety attack. Not least because the club has a history of underestimating the severity of injuries. With Steven Caulker now sold to Swansea, William Gallas released and still no return date for Younes Kaboul nearly a year after he limped off against Newcastle, Spurs could be dangerously exposed in central defence.

Another side effect of Vertonghen's injury was that Andre Villas Boas wisely decided not to risk other key members of the squad on a substandard pitch. Bale was kept under wraps with the most minor of niggles, Paulinho -- the club's record signing from Corinthians whom you would have thought AVB was keen to integrate into the team as quickly as possible -- has yet to kick a ball in anger for Spurs, and Sandro could not be given even a few minutes of playing time as part of his rehabilitation. Those who did play did so extremely gingerly.

Effectively, then, the Hong Kong tournament wasn't a stepping-stone in the club's preseason; it was an interruption. Those players who were fully fit were not able to capitalise on their fitness, and those who weren't fully fit couldn't get a look in and didn't even have the benefit of the full rehabilitation regimen they have had back at Spurs Lodge. Everyone got anxious and grumpy about the nonstop rain and got two doses of jet leg into the bargain at a time when every day of preseason training counts.

What of the positives? Well, we learned that, even at half-throttle, Spurs can comfortably see off South China, that Jermain Defoe is still a top striker and that Hugo Lloris is world-class. But most of us knew that anyway. The only real revelation of the tour was that Defoe also can pass to a better-placed forward when through on goal rather than always shoot himself. That I had never seen before. But that seems a poor return on a trip that came with so many other losses.

It's possible, of course, that Spurs will come racing out of the blocks against Palace in a little more than a couple of weeks. In which case all will be forgiven and forgotten. But Spurs fans are only too familiar with something rather more hit-and-miss in the opening games and, with the Bale and Roberto Soldado sagas rumbling on and other key players injured, you wouldn't bet against a repeat. If it does turn out this way, there will be some awkward questions asked about the Hong Kong jaunt.