Why Tottenham fans love to beat Chelsea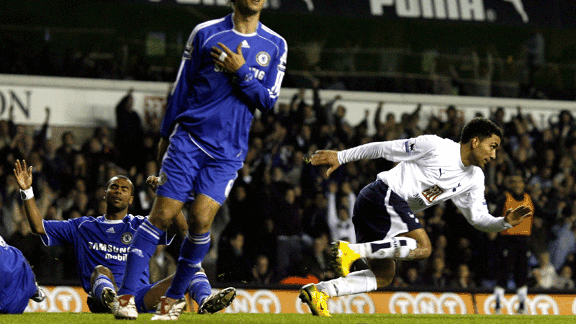 PA PhotosAaron Lennon bagged the winner when Spurs ended their 32-game winless hoodoo against Chelsea in 2006
Tottenham against Chelsea is a pretty special match. It always has been. Mainly because their fans hate us and vice-versa.

While Tottenham supporters have always been pretty consistent with their ranking of Arsenal as their number one rival, Chelsea are more promiscuous when it comes to choosing the club that they love to hate.

There was a long standing rivalry with Leeds United, built on tensions between the players on the pitch and the hooligans outside the stadium. Recently there have been rivalries with Liverpool and Manchester United as the teams battled for trophies, while Arsenal were named in a fans' survey as Chelsea's current bête noire.

But the one constant has been Chelsea's hatred of Tottenham. The two clubs may both hail from London, but it's by no means a geographical given. Fulham and QPR have no real beef with us after all.

As was the case with Leeds, it's a rivalry built upon our respective sets of hooligans and the teams' battles on the pitch. The former does nothing but sadden me, so I'll move onto the latter...

People who have grown up with the Premier League might be shocked to learn that there was a time when Spurs were actually a better team than Chelsea. Notable victories include Tottenham triumphing over the Stamford Bridge outfit in the 1967 FA Cup final, beating them in a relegation dogfight in 1975 which would see Chelsea eventually relegated (while Spurs stayed up) and knocking them out of the FA Cup in 1982 en-route to winning the competition.

Up until the nineties, Spurs had won the league more times than Chelsea and enjoyed far more success in the cups, both domestically and in Europe. This changed when Chelsea became a football super-power thanks to massive investment, while Spurs were mired in mediocrity thanks to their buying a succession of rubbish players.

At the start of the decade Spurs beat Chelsea 2-1 with Gary Lineker scoring the winner. It took another 32 league games before Tottenham would win again.

I was at White Hart Lane in 2006 when we finally ended that hoodoo with a 2-1 win and would rank it as one of the best atmospheres that I have ever witnessed at a football match.

The victory was so sweet on many levels. It broke Chelsea's dominance over us, demonstrated that our improving side could now beat the best and most importantly, really annoyed their fans.

Because while Spurs supporters have had to stomach a lot of stick from both Arsenal and Chelsea fans over the years, it's arguably the abuse from our blue rivals that hurt the most.

Both clubs had left us behind when it came to our stadium, team and spending power, but it was Chelsea's growth that was the most galling for a simple reason - every Tottenham fan considers ourselves to be a bigger club than Chelsea.

Yes, the rational side of us knows that those days are long gone. Luka Modric made it clear who he'd rather play for. Chelsea are in the Champions League every season and regularly win the biggest competitions.

They have more money to spend on wages and a larger transfer budget. Their stadium has a bigger capacity than ours and boasts a Marco Pierre White restaurant where we have one of many fried chicken outlets.

But we remember... We remember the days when we would walk up to Chelsea with a larger cheque book and sign their best players. We remember the days when we would win the trophies while they were getting relegated. We remember Glenn Hoddle gracing our midfield while they had John Bumstead.

Are we living in the past? Certainly, but there's lots of us doing it. More so than there are Chelsea fans who can look back the same distance. We might have a smaller stadium, but Tottenham remain the better supported club. By that I mean supporters who can actually attend games rather than ones who merely wear replica shirts from afar.

That's why it hurts so much. We're the bigger army and we've been taking a battering from a smaller outfit. We live in hope that one day, the roles will reverse once more.