Will Soldado signing prove as easy as A-B-C for Spurs?
Spurs pulled off their second signing of the summer on Monday as Nacer Chadli joined the club from Twente in a deal for £7 million and then Andre Villas-Boas confirmed the club are also interested in Valencia striker Roberto Soldado.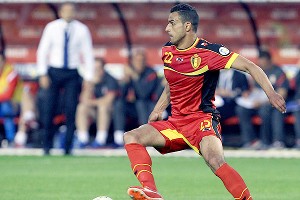 AP Photo/Yves LoggheNacer Chadli was a relatively inexpensive buy for Spurs; capturing Roberto Soldado will undoubtedly cost much more.
Only time will tell if the Chadli transfer is a success, but the signs look good. He fits into the fast and powerfully built prototype of Tottenham's recent signings and is an adaptable player who can play across the front line.

What's more, he's young and an established international player in a Belgian side that we all know is jam-packed with talented individuals. As Chadli only had one year remaining on his contract, Spurs were able to pick him up for a relatively low price.

While this is all very good, we shouldn't pretend that Chadli was Tottenham's first choice to provide competition on the flanks. That man was David Villa. Chadli was Plan B, or perhaps even Plan C behind the expensive Bernard.

- AVB confirms Spurs talks for Soldado

That's not to say that Spurs fans should be disappointed with this signing. It's merely a sign management are doing their job by lining up alternatives for the positions they know they must fill this summer.

Which brings us to the old chestnut that is Tottenham's long search for a top-class striker. If Aston Villa Christian Benteke was Plan A, then just who are Plans B and C?

I haven't gone further down the alphabet because that seems pessimistic, but one expects that there's a D, E and F pencilled in. Let's just hope that there's no need to get into the second half of the alphabet planning system. Grzegorz Rasiak must have been Plan T at least.

While on the subject of Benteke, it strikes me that he's an easily persuadable man. During the summer, while his agent had his ear, Benteke submitted a transfer request, so apparently desperate was he to leave Villa Park. Yet when Paul Lambert got to have a word in his shell on the first day of pre-season training, Benteke drove home that same day having signed a new four-year contract. One can only imagine the sort of deal that Daniel Levy could have had him sign if he'd managed to get five minutes of the striker's time.

Instead, Spurs must move on, and the rumours that Plan B was Valencia's Roberto Soldado were more or less confirmed on Tuesday.

Speaking in Hong Kong, Villas-Boas said: "At the moment, he's just one of the players we are interested in. It's not a lie to anybody that we've been looking for a striker to strengthen our squad and to have more strength in depth.

"Roberto is one of the players we have been following and his career speaks for itself. He's a great striker, but there isn't a deal being struck at the moment. It's just interest and conversations."

In terms of Soldado's ability, he is probably ahead of Benteke in terms of the quality he would bring to the side now. Having come through the Real Madrid youth ranks, this is a player improving year on year. His goal tallies for the past five seasons are as follows: 13, 20, 25, 27, 30.

Where Plan A had the advantage is that Benteke is 22, while Soldado is 28. The Spanish international will cost big money that Tottenham would be unlikely to recoup. The media are reporting a fee of £18 million, but I've also seen valuations as high as £25 million bandied around.

That points to a fair bit of negotiation and we have already seen this summer that being in talks about a player means nothing. I hope Spurs land him, but it would be a highly untypical signing for the club and that makes me have doubts.

So who would be Plan C if Soldado falls through? The likes of Papiss Cisse and Loic Remy appear to be available and would provide some Premier League experience, but the player I'd like to see targeted would be Galatasaray's Burak Yilmaz, who looked so impressive in the Champions League last season and scored 32 goals in all.

The only trouble is that Yilmaz is also 28 and likely to command a big fee. Perhaps Tottenham should stick with Soldado and Plan B, pay what it takes to get their man and hope he recoups the outlay by firing the side to some glory.

Updated with confirmation of Soldado interest.