Lennon on the left needn't be out in the cold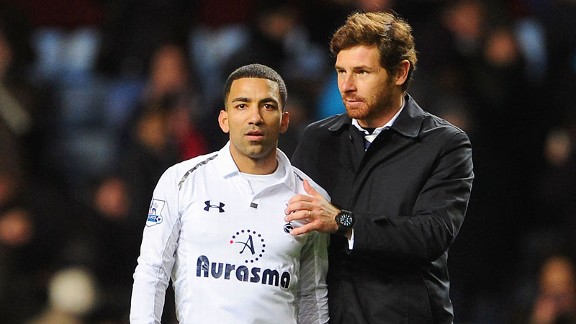 Michael Regan/Getty ImagesAaron Lennon could interchange with Gareth Bale on the flanks.
Tottenham's 1-1 pre-season draw with Swindon saw the side line up in a 4-3-3 formation as expected. Gareth Bale was predictably Spurs' goalscorer, starting on the right, with Jermain Defoe as the central striker and Cristian Ceballos on the left.

The right is where Bale is most likely to start if Andre Villas-Boas persists with this formation. It's not necessarily the position where he will see the most action, but it is an area where the Welshman is most able to get opportunities to cut inside and fire in those unstoppable shots with his left foot.

- Spurs 'to double Bale's wages'
- Lloris hails Paulinho signing

So where does this leave Aaron Lennon, who for eight years has made that spot on the right wing at White Hart Lane his own?

The obvious answer is the left wing, with the he and Bale able to interchange during the game, to provide more width when needed.

Many still claim that Lennon cannot cross, and while he has worked hard to improve in that area over the years, it's true that delivery is never going to be the strongest aspect of his game. What is Lennon's greatest strength is his ability to beat players. He can still do that on the left and what's more, he will be running into dangerous areas as he cuts in on his right.

Lennon has a tendency to cut inside anyway. Just as often as he'll attempt to skin a full-back and deliver a cross, he'll come inside and dribble towards the centre of the pitch.

These forays could be much more deadly when the ball is glued to the inside of his stronger foot. I'm reminded of the great solo goal that Lennon scored against Fulham at Craven Cottage a couple of seasons ago.

Goals are something that's always been lacking from Lennon's game. The most he's ever managed in a season is five (twice) which is pretty poor for a player of his class. If he's playing in a front three then he will have a responsibility to score more. Double figures should be the target.

Of course, if both Lennon and Bale are cutting inside then you wonder where the width is coming from. What's interesting is that Spurs' other wide transfer targets this summer also prefer to run inside.

As a striker, David Villa's instincts always lead him towards goal, regardless of the wing he's stationed on. Nacer Chadli can also play on either wing, but is generally employed on the left and cuts in on his favoured right boot.

It seems then that it will be left to the full-backs to provide the genuine width in this formation. We all know that Kyle Walker has the engine and ability to do this job on the right, but the left is a bigger question.

AVB clearly doesn't rate Benoit Assou-Ekotto that highly and though he's good going forward, he always looked more comfortable giving the ball to Bale than to be the main focus of the attack. It would be no surprise if BAE was sold this summer and even if he stays, I wouldn't expect him to be first choice.

That honour could fall to Danny Rose who impressed while on loan at Sunderland. Rose didn't have the pace or the trickery to make it as a winger, but looks more comfortable when attacking from deep. He (like Walker) needs to work on his final ball when he gets into the final third.

Whether it's Rose, Assou-Ekotto or a new signing, they will find the space behind them adequately covered when play breaks down. Few wide players are as good at tracking back as Lennon, while the midfield trio of Sandro, Paulinho and Moussa Dembele are athletic enough to get across to cover both sides of the defence.

You can picture how this team is going to function and Lennon will be a vital part of it. AVB gave him more responsibility last season and was repaid with some fine performances.

With a World Cup looming, a move to the left should be embraced as an opportunity by Lennon, rather than being pushed out in the cold.