Mystery man Tom Huddlestone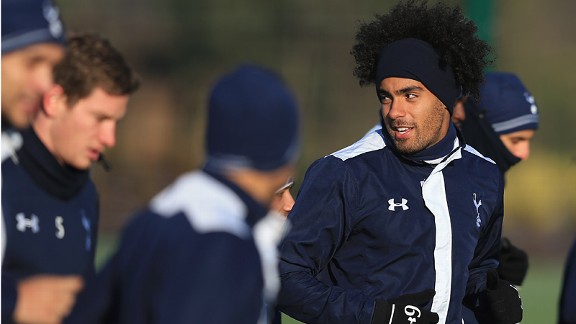 GettyImagesTom Huddlestone will not cut his hair until he scores
You can't not start with the hair. After returning to fitness at the beginning of last season, Tom Huddlestone vowed not to get his hair cut until he scored again. By May his hair was completely out of control. It was all getting a bit desperate for the Spurs midfielder. The harder he tried, the more wayward his shooting became; so much so that he never looked like scoring again.

Few players divide opinion at White Hart Lane quite so much as Tom "Hudd the Thudd" Huddlestone. For some he is by far the best passer of the ball in the squad, the midfielder who can switch play with an effortless 40-yard ball that zings straight to the feet of a Gareth Bale or Aaron Lennon. A footballer worthy of being mentioned in the same breath as Glenn Hoddle. For others, he is - to put it bluntly - a bit of a lummox; a player who is just too slow and clumsy for a side that has built so much of its recent success on speed and mobility.

With the arrival of the Brazilian, Paulinho, it is hard not to imagine that Huddlestone's days at White Hart Lane are numbered. Indeed, he has been linked to a move to Sunderland, though that particular deal appears to have gone a bit quiet over the past week. With just two midfield slots available and Paulinho, a fit-again Sandro, Moussa Dembele and Scott Parker all ahead of him in the pecking order, the Hudd will have to compete with Tom Carroll - another fine passer of the ball - just to get on the bench.

It's not hard to pinpoint where it has gone wrong for Huddlestone. Spurs have changed and he hasn't. When he arrived at the club from Derby County in 2005, Spurs were in the process of rebuilding after several disappointing seasons and Martin Jol had just taken over as manager from the less-than-inspiring Jacques Santini. Ledley King, Michael Carrick and Jermain Defoe apart, there were no proven world-class players in the squad. Huddlestone had time to fit in. Moreover, the way Spurs played gave him plenty of time on the ball; it was a pattern that suited his slower, more methodical style.


For a number of seasons it looked as if Huddlestone would develop into the real deal - both for Spurs and for England, for whom he has made four appearances since 2009. He became more confident on the ball and team-mates increasingly began to look towards him as one of the side's pivotal creative play-makers. He also had one of the hardest shots in the Premier League and scored a few standout goals - in particular an acute angled volley in a 4-4 home draw against Chelsea. His goals, though, were more memorable than their frequency. In 143 appearances, he has scored just eight.

But then Spurs got quicker and Huddlestone didn't. The Hudd is what some pundits call "a unit." This in itself wasn't necessarily a disadvantage. Manchester City is stuffed with "units." Just think Yaya Toure and Micah Richards. But Huddlestone was, and is, a rather immobile unit. A player without pace, whom opposing teams learned to take out of the game by passing the ball quickly past him and who also sometimes frustrated his own players, by now used to a Luka Modric speed of build-up, by slowing the attack down and allowing defenders to regroup. On a number of occasions, Harry Redknapp did try Huddlestone in defence, only to discover that he couldn't tackle.

Two seasons ago, it did look as if the Hudd had made an effort to slim down but he still didn't have the fitness or the pace that he or the team needed. Then he got injured and missed most of a season; since then, he has looked ever more peripheral. Though there were still times when he gave glimpses of what he could have been. His pass that put Bale through for the third goal against Manchester City was one of the best of the season. And there were times towards the end of last term when Spurs were pressing hard but passing the ball sideways to each other on the edge of the box with the score locked at 0-0 with 75 minutes played, that I found myself longing for someone like Huddlestone. Someone who might dare to play the incisive, killer ball. And that's something I never thought I'd say.

The Hudd remains something of a mystery. Is he just a very good player who made the most of his physique and potential or one who could have been a real star but liked the lifestyle of the Premier League more than the hard work and training he needed to put in? If the latter, he wouldn't have been the first. Was he also mentally up to the challenge of Premier League football? He always looked far better when the team was winning than when the chips were down. And on the two occasions I saw him take a penalty, I've never seen a player whose body language screamed "I'm going to miss" louder. He did. On both occasions.

The very last game in which Huddlestone scored sums up his time at Spurs. It was at home against Arsenal and throughout the first half the Hudd had been hopeless as the Gunners took a 3-1 lead. With seconds of the first half remaining, a sweetly timed Huddlestone volley made it 3-2. The Hudd barely acknowledged the goal, as if embarrassed by his own incompetence in the preceding 45 minutes. As far as I remember, that goal was his last kick of the game as he was substituted at half-time.

For his own good, as much as for Spurs,' it is time for Huddlestone to move on. He needs a new challenge. In particular, he needs a new team who will build their midfield around him and who will appreciate his considerable talents. He also, I would guess, needs to take a hard think about just how much he wants to play and what he wants to get out of the remaining years of his career.

I'll miss him when he's gone.