Why Spurs are keen to cash in on Dempsey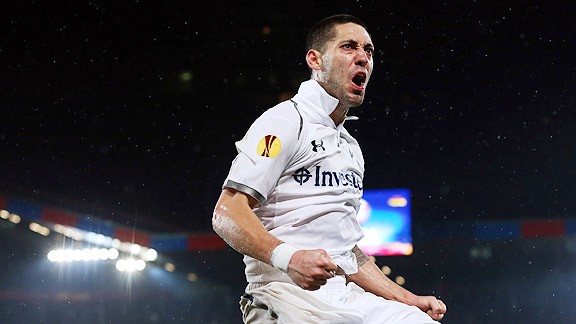 Julian Finney/Getty ImagesClint Dempsey has been great at Spurs but is too old to fit into long-term plans.
Spurs fans have been preoccupied this summer, worrying about the possibility of Gareth Bale leaving the club and wondering if they will finally sign a decent striker.

With these matters at the top of the agenda it's been easy to overlook that a number of established squad players will be sold this summer. Tom Huddlestone, a player who has been at the club since 2005, looks close to a move to Sunderland as he attempts to secure the first-team spot that might finally give him a shot at getting his hair cut again.

Another player looking likely to leave White Hart Lane this summer is Clint Dempsey. West Brom are said to be preparing a bid for the U.S. international and they are unlikely to be the only interested party. Last season I questioned whether Dempsey was good for Spurs after a somewhat inauspicious start to his Tottenham career and a particularly anonymous display against Manchester City.

Yet as the season wore on I think he proved his worth. In total Dempsey scored 12 goals for the club, which was a pretty good return when you consider that he never really nailed down a regular spot and subsequently made a number of appearances as a substitute.

Despite this worthy contribution, I can't say that I'm particularly surprised that Dempsey now appears to have been made available. I predicted as much last season and it's more to do with his age and the circumstance of his signing than his abilities on the pitch.

Dempsey of course had looked destined to move to Liverpool all summer. Tottenham didn't seem to show much interest in signing him until it suddenly dawned on them on transfer deadline day that they only had two senior strikers. Having convinced themselves that yes, they could remember Dempsey playing as a striker for Fulham a few times the previous season, they snapped him up at the last minute.

It obviously wasn't a signing that had been planned and at 29, Dempsey was older than the players Spurs generally recruit. Still, the fee was reasonable and Dempsey could cover a variety of attacking positions, which would prove useful as a small squad took on a challenging fixture list. Now 30, this summer represents the last time that the club could realistically get back the money they paid for Dempsey and that's the main reason that he's up for sale. Cold hard business. You don't get many players who see out their career at Tottenham, especially since Daniel Levy took charge of the purse strings.

Ironically, I tend to think that Dempsey would fit much better into Andre Villas-Boas' likely 4-3-3 formation next season than he did in last season's 4-2-3-1. Dempsey lacks the guile to play in behind the striker and when paired with the goal-focused Jermain Defoe, the team's build-up play suffered.

It wasn't until Gareth Bale switched to the centre that Dempsey had the opportunity to play on the left side of the attack. It's his clear best position, with Gary Neville noting last season that Dempsey was a nightmare to mark when he was drifting in from the flank.

I think that Dempsey could do a good job in that position, but he's not the only option. Gylfi Sigurdsson offers a similar threat from the left and is the younger man, with the greater potential. Throw in the fact that Spurs look likely to sign Nacer Chadli as another wing option and you can see why they might think Dempsey is expendable.

After just one season as a squad player at one of the Premier League's top five, it looks as if Dempsey will return to being a vital cog at a midtable outfit. I won't give much more than a shrug if Clint does move this summer, but I will certainly be picking him for my Fantasy Football side next season.