Where did it all go wrong for Adebayor at Spurs?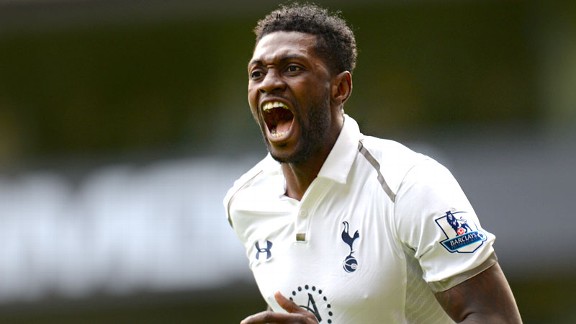 Shaun Botterill/Getty ImagesEmmanuel Adebayor scored just five Premier League goals last season.
If Emmanuel Adebayor really has, as widely reported, agreed personal terms with Turkish club Besiktas - one would be foolish to take anything as definite until the ink on the contract is dry and the move complete - most fans will have a mixed reaction. Here was a striker who sometimes appeared to be the real deal - big, strong and skilful enough to be more than a handful for the meanest defences and with the priceless gift of scoring important goals - and at others looked like a clumsy, gangly also-ran with limited ball skills and even less interest.

Spurs can't say they weren't warned. Adebayor came to the club with form. He had initially done well at Arsenal and Manchester City, but with both clubs his form and enthusiasm had quickly dropped and the management and fans eventually lost patience with him.

So why did Spurs think it might be third time lucky with Adebayor? The main reason is that he had been a great piece of financial business for the club in his first season when he had been on loan. Manchester City picked up more than half of his wage bill while the London club picked up the rewards of 17 goals in 34 games.

Spurs also believed they could be the right club to bring the best out of Adebayor. Where Arsenal and Man City had been corporate, impersonal, unforgiving megaliths, Spurs saw themselves as a friendlier, more human club where Adebayor's insecurities and foibles could be properly managed to ensure he felt loved enough to deliver of his best.


At first it all worked out just fine. Remembering how the Togolese striker had raced the length of the pitch to taunt the Arsenal fans after scoring against his old club for Manchester City, the White Hart Lane fans immediately took him to their hearts. There was no wooing necessary. "Adebayor/Adebayor/This is the best club/You've ever played for" became a familiar refrain around the terraces. And Ade played great football, with commitment, goals and a smile on his face.

It's hard to say exactly where it went wrong. Did Adebayor not warm to the change of management?

Possibly. Under Harry Redknapp, Adebayor had been almost guaranteed a place in the starting XI. AVB had quickly made it clear his formation was built around a lone striker and Jermain Defoe was his first-choice front man. But then, Adebayor didn't always do himself any favours. Having scored the goal that put Spurs ahead against Arsenal at the Emirates, he committed a needless, reckless challenge that earned him a red card. That was the game's turning point. Spurs went on to lose 5-2 and Adebayor got a three-match ban that put him further out of the reckoning for a regular first-team place.

In 25 games for Spurs last season, Adebayor scored five goals. But it wasn't just his lack of goals - he missed some sitters - that caused so many people to get on his back. It was his apparent lack of effort. There were times when it didn't look like he could be bothered to even run. You can make of this what you will. Maybe his apparent lack of desire was his way of compensating for his embarrassment at being so out of form. Maybe once you've seen three of your Togo team-mates shot dead on a bus and you're playing under a manager whose tactics don't suit you, then there are long periods when you don't feel the need to give 100 percent effort the whole time.

But then, when you're the highest-paid player at a club - Adebayor was earning significantly more than Gareth Bale last season - and when one of the main reasons your team missed out on qualification for the Champions League was the lack of a consistent striker, you are rather obliged to look like you care.

Nor was it any great comfort to anyone that Adebayor started running a little harder and scoring a few goals in the last few games of the season. To the suspicious mind, it looked like he could turn it on when he wanted to, and he wanted to when there was a new contract to be negotiated.

Whatever his faults, though, no one at White Hart Lane could see Adebayor leave without some regrets. Because he was and is a genuine talent. Someone who could and should have been one of the club's great players. Who could and should have been equally at home playing alongside Defoe in a 4-4-2 formation as a lone striker. But for whatever reason - be it his or the club's - Adebayor seems certain to be remembered best as the player who never fulfilled his potential.

It might seem harsh of Spurs to call time on Adebayor after just two seasons. Many of us could find plenty of arguments - both rational and sentimental - for giving him another chance. But Daniel Levy and AVB seem to think the stakes are too high and they can't afford to take the chance. If Spurs miss out on Champions League football again, there won't be a hope of retaining Bale for the following season.

What Spurs mustn't do, though, is to play their familiar brinkmanship with Villa over Christian Benteke while Adebayor packs his bags. With only Defoe and Harry Kane left, Spurs need another striker. Preferably before Sept. 1. The club could do without turning a 38-game season into the usual 35-game one.