Mourinho will walk onto pitch alone 40 minutes before Madrid derby and let boo-boys get it out of their system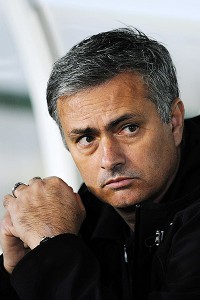 Denis Doyle/Getty ImagesWhen Jose Mourinho finally parts ways with Real Madrid, what sort of playing style will he leave behind?
"You wouldn't boo 'ickle old me would you?"

A vocal minority of Real Madrid fans have taken to heckling their side of of late, with Los Blancos wallowing in the rancid quagmire of THIRD PLACE in La Liga as things currently stand; eight points behind Atletico Madrid in second and 11 points off Barca at the top.

Having been asked about the booing and whistling he received during Real's midweek Copa Del Rey victory over third-tier Alcoyano for the umpteenth time, coach Jose Mourinho used his Friday press conference to announce that he was planning to do something about the situation.

Said Mou:

"They applaud me, they whistle me, that's life in football. I'll go out onto the pitch at 9.20pm on my own (before Real's crunch derby game against Atletico tomorrow, which kicks-off at 10:00pm).

"Those who want to whistle me they can do it. People who come later should support their team, support their Real Madrid so that Real Madrid can achieve its objective which is to win the match.

"It's not a challenge of any kind. If they want to whistle I'll accept it with humility, and with calm as well because I have been around for many years."

Basically, the Real Madrid boo-boys will have 40 minutes to vent their spleens at Mourinho until they're blue in the cheeks, at which point he'll wade into the crowd and slap each of them around the face with a large mackerel for being such ridiculous, self-entitled little gitwads!