Newcastle confiscate season ticket of disabled fan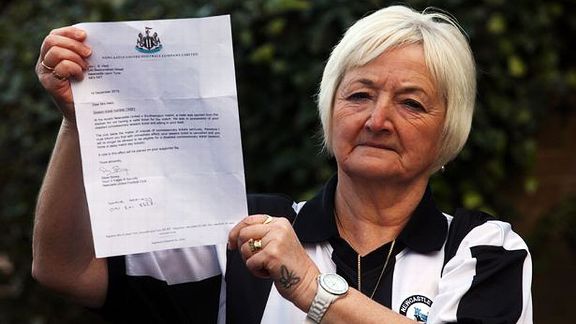 Chroniclelive.co.ukLilian Held received a letter from Newcastle informing her of the club's decision.
Score another huge win for the Newcastle United PR department with the news Thursday that the club have seen fit to cancel the season ticket of a disabled grandmother after she allowed her son to use it for one game while she was away on holiday.

According to The Chronicle, Lilian Held, a 65-year-old Toon fan, allowed her son Christopher, 29, to use her ticket for the Newcastle-Southampton game in December while she was away -- the first home game she'd missed in nearly 14 years.

Unfortunately, the season ticket was specifically designated for a disabled fan due to Held having problems with her back, so, just 20 minutes into the game, Christopher was sussed to be able-bodied and approached by stewards who asked him to produce his match ticket.

Ascertaining that the stub was supposed to be for a disabled fan, security then seized Christopher's season ticket and turfed him out of St James' Park, leaving his twin 14-year-old nieces (Lilian's granddaughters, with whom she usually attends Newcastle games) behind in the stadium.

He was also told that his mother would have to come down to the ground in person and prove her identity if she wanted to retrieve the season ticket, as it was her name on the cover.

A few days later, Lilian returned home and made straight for St James' Park, only to be told that her season ticket had been "suspended until further notice" pending an investigation into the non-incident.

"I was told my ticket would be suspended while the club investigated whether my son had sat in the seat regularly," Held told The Chronicle. "I told them he never sits in the seat -- I always sit in the seat and this was the first game I'd missed in 14 years.

"I only wanted the girls to be accompanied by an adult because I'm always there at home games to look after them.

"When I asked if I'd be missing the Boxing Day match, I was told I'd not only be missing that, I'd be missing the Arsenal match as well."

Newcastle then failed to contact Held until Jan. 4 and only then to kindly inform her that her season ticket had been resold to someone else and that she'd have to pay full price if she wished to renew it.

Held, who actually used to work for Newcastle during Kevin Keegan's stint in charge, originally brought the season ticket as a gift for her husband, but has been attending games herself, week-in, week-out, ever since he passed away in 1999.

"I have sat in that seat for 13 years," she added to the Chronicle. "I'm a lifelong fan of Newcastle United and I worked for the club in the 1990s where I had my picture taken with Kevin Keegan.

"Going to the match is the only bit of social time I get. I live for those home games. Taking my ticket from me and selling my seat without giving me the right to even argue my case has completely ruined my year."

According to the Chronicle, Held's daughter, Nicola, wrote to the club on Jan. 10 asking for an explanation/apology for her mother's appalling treatment, but has not yet received a response.

The club, when contacted by the paper, have also declined to comment on the matter.