Everton fan gets Liverpool tattoo to raise money for ill youngster
Moved by the plight of 4-year-old George Johnson after reading about the ill child in his local paper, a diehard Everton fan decided that he would help raise funds for the cause by promising to have a large Liverpool tattoo done across his back in return for donations from friends, family, supporters of both clubs and the general public at large.

George suffers from a rare condition that leaves him unable to eat or drink properly (he survives by being fed through his heart) and is in desperate need of a trip to a specialised clinic in the United States to have his illness fully diagnosed and treated -- treatment his family sadly could not afford.

The family started the "Team George" campaign in order to help raise the necessary 15,000 pounds to get their boy to America. Lifelong Evertonian Matty Bowman, 26, caught wind of the drive and duly volunteered to help swell the coffers by having the Liverpool club motto "You'll Never Walk Alone" inked between his shoulder blades if enough money were pledged.

Bowman subsequently was inundated with donations and, being a man of his word, kept up his end of the bargain. Last weekend, he made his way down to his local tattoo parlour.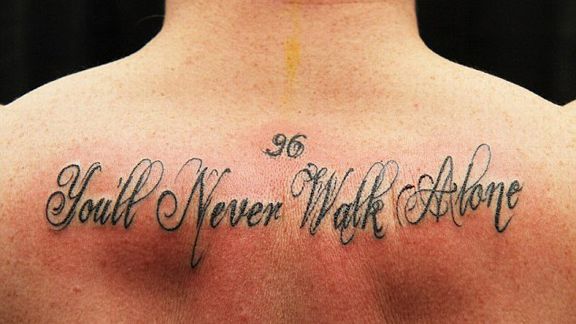 Mathew Growcoot/News Dog MediaAn Everton fan got a Liverpool tattoo for a very good cause.


After having the Liverpool tattoo indelibly etched across his back, a slightly sore Bowman told the Liverpool Echo:

"I wanted to do something for him. A marathon [wouldn't] get too much interest, so something hardcore like this might get a lot of interest.

"If I didn't want to do it, I wouldn't have done, but I did it for a reason -- it was for George, I've got a boy the same age.

"Mentally, it was very bad. I didn't look at it -- I just asked them to cover it up. It hurt quite a bit, but it wasn't too bad, it lasted just over an hour.

"His mum has not stopped thanking me. We are going out for a meal next week as a thank-you."