Getafe defender's testicle 'swells to the size of a handball' after Barca clash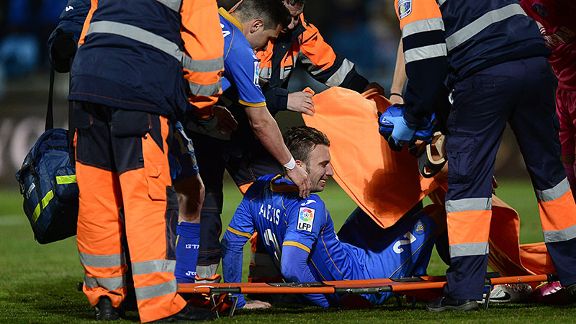 GettyImagesGetafe defender Alexis Ruano Delgado is helped onto a stretcher.
You may think you've had a rough week but it's fairly safe to say that Getafe defender Alexis Ruano has probably endured a slightly more uncomfortable one after suffering a particularly gentleman-sensitive injury during his side's Copa Del Rey tie against Barcelona on Thursday evening.

Having collided forcefully with a Barca player, Alexis -- and believe us, there's no easy way to say this -- ruptured several veins in one of his testicles and had to be stretchered from the pitch in agony with only 35 minutes on the clock.

Marca then had the dubious honour of reporting an update on Alexis' condition after the game, transcribing part of Getafe manager Luis Garcia's post-match press conference in which he described the centre-back's bruised appendage as having "swollen up to the size of a handball".

"One of Alexis's testicles was like this," said Garcia, visibly muting a chuckle before holding up his hands to mime a handball-sized sphere.

"He has broken some veins. It's nothing serious," he continued. "The swelling has already gone down, he should be fine for Sunday.

"I was shocked when I went into the dressing room, but it's not serious. I'd never seen anything like it!"

And with that, Alexis joins Blackburn centre-half Scott Dann on the mercifully short list of footballers who have suffered crotch-based injuries that you wouldn't wish on anybody.