Real Madrid's Pepe donates food to families in need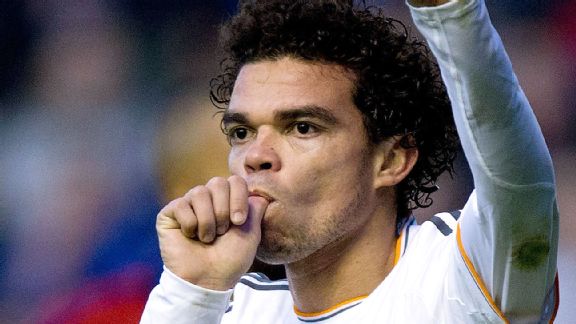 Gonzalo Arroyo Moreno/Getty ImagesReal Madrid defender Pepe helped deliver food to families in need in Madrid.
You don't usually have to go very far to find a football fan who both loathes and detests every fibre of Real Madrid centre-half Pepe's being for his fairly regular bouts of cynical, and sometimes violent conduct on the field.

This, of course, is the very same man who infamously once attempted to psychotically flay and trample a prone opponent (Getafe's Javi Casquero to be specific) down into hamburger mince not so very long ago after conceding an 87th minute penalty -- a red card incident which left Pepe "depressed and considering his future in the game" and not the poor soul he'd just kicked into the middle of next week!



However, it's reassuring to discover that Pepe doesn't seem quite as repugnant off the field, with the news that the Portuguese defender spent Tuesday afternoon doing more than his bit for charity.

MARCA are reporting that Pepe attended a charity event in Las Rozas, Madrid on Monday evening and donated a lump sum of money to help bulk buy food for some of the area's most in need and underprivileged families.

He then turned up the following day to help hand out over 5,000 kg of basic sustenance such as rice, flour and tinned goods, with each family receiving two boxes of approximately 20 items of essential foodstuffs.

Now, it's hardly as if we're willing to forgive the man for his on-field transgressions any time soon, but a doff of the cap is definitely due to Pepe for his non-professional commitments -- a solid gold deed if ever we saw one.