Mario Balotelli plays in boots covered in headlines about himself
Mario Balotelli was once again the centre of attention during Monday night's 2-2 draw between mid-table Milan and second-place Roma, though not for anything he did on the pitch, but rather the attire he chose to take to it wearing on his feet.

Eschewing his usual standard boot choice, Balotelli wore a pair of custom-designed boots plastered all over with various newspaper cuttings and just a fraction of the myriad tabloid headlines that have been written him about over the course of the last few years -- with "Super Mario", "Bye Bye Germania" (in reference to his match-winning performance against Germany at Euro 2012) and his trademark catchphrase "Why Always Me?" all featuring prominently.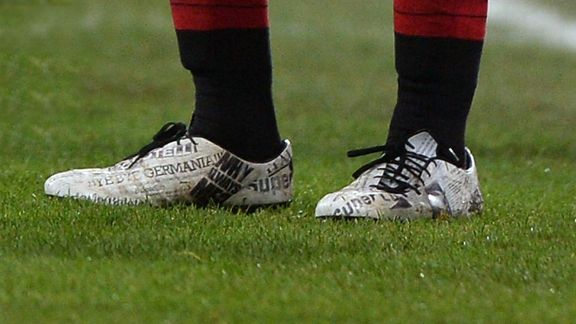 GettyImagesMario Balotelli's fancy new footwear.
Now, maybe we're reading into this a little too much, but we're very much of the opinion that a certain £19 million somebody is beginning to get just a tad jaded with the constant, relentless obsession the media has with every women's prison he wanders into, every bathroom firework accident he has, every piglet he buys, every car he has camouflaged, every tramp he gives £1,000 to, etc, etc.