Former Port Vale goalkeeper quits football to become WWE wrestler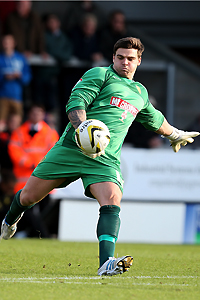 GettyImagesTomlinson: Keeper to wrestler.
It's hardly what you'd call a well-trodden path, but former Port Vale, Crewe and Burton Albion goalkeeper Stuart Tomlinson is turning his rather sizeable back on English football's lower leagues to try his hand at the world of professional wrestling.

Tomlinson, 28, played 81 times for Port Vale before joining Burton Albion last summer, only for a knee ligament injury to force him to retire from the game back in July of this year.

It was at that point that World Wrestling Entertainment came a-knockin' and offered Tomlinson, who has also previously worked as a male model and body-builder, a contract at their developmental wrestling academy, with the ex-keeper Tweeting:


Looking forward to a new job @WWE Swapping two posts and a net, with four posts & ropes- USA bound - as of Tomorro #GIZTHAT #tomoOnTour

— Stuart (@stutomo) December 6, 2013


Good luck!