Second division midfielder win Swedish version of Pop Idol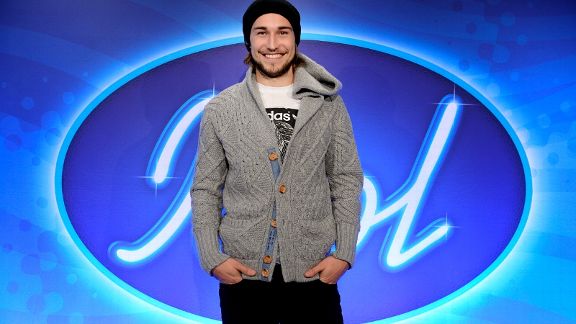 GettyImagesGIF Sundsvall player Kevin Walker participates in 'Idol 2013'.
In what is pretty much the direct equivalent of Joey Barton winning the X-Factor, a professional footballer who plays in the Superettan (i.e, the second tier of Swedish football) was crowned the winner of the ninth series of the Swedish version of Pop Idol, 'Idol Sverige'.

Kevin Walker, 24, who is of Irish decent but was born in Orebro, narrowly missed out on a spot in the promotion play-off with his side, GIF Sundsvall, at the tail-end of the 2013 season having been relegated down from the Allsvenskan with the club the previous year.

As such, Walker was a bit-part squad player last term but has since become an established first-teamer in the second division, with several of Sundsvall's league games having to be rescheduled to fit around the midfielder's Idol filming commitments.

According to The Score, during the final episode of the show, Walker warbled his way through U2's 'Where The Streets Have No Name', Jon Mayer's 'Say What You Need To Say' and the official Idol single 'Belong' in front of a packed house at the Ericsson Globe in Stockholm, before taking to the stage to sing with Robbie Williams alongside fellow finalist Elin Bergman, on the ex-Take That singer's new single, Shine My Shoes.

The votes were then totted up and Walker emerged the victor, winning a year-long Universal Music recording contract for his troubles.

"It's unreal! Unreal! Unbelievable!" Walker told Reuters immediately after his victory, before admitting he hasn't made a decision on whether or not to give up his day job yet.

"We'll see, we'll see. Tonight I'm just going to enjoy the party. I'm a football player and I love singing," he added.

"If I can combine the two, it would be dream come true for me. All I can do is take it as it comes."

Here's the performance that clinched the win for Walker. Not a bad set of pipes on him, this lad.