Cristiano Ronaldo opening museum dedicated to -- Cristiano Ronaldo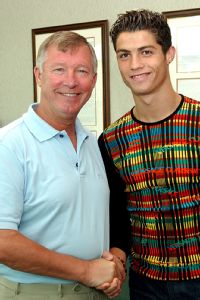 John Peters/Getty ImagesThe sweater Cristiano Ronaldo wore when he signed with Alex Ferguson and Manchester United in 2003 is worthy of inclusion in Ronaldo's new museum.
Given that he reportedly rakes in around about 290,000 pounds a week at Real Madrid, it's probably fair to assume that Cristiano Ronaldo has a healthy amount of disposable income -- disposable enough, it would appear, that he is planning to use to create a museum dedicated entirely to his favourite subject: himself.

According to Marca, Ronaldo's Ronaldo shrine is scheduled to open in the town of Funchal on the Portuguese island of Madeira (his birthplace) on Dec. 15 and will showcase his "individual football trophies along with other memorabilia associated with his career" such as photographs, jerseys, photographs and a healthy smattering of black-and-white, full-length, partially-nude photographs.

Ronaldo himself is due to attend the grand opening and is currently spending a few days in Madeira with his mother and his young son, Cristiano Ronaldo Jr., to smooth over a few final details with the museum's organising committee.

One a personal level, we hope Ronaldo will find a bit of room in his museum for the utterly superb knitwear (above) he wore to shake Sir Alex's hand when he signed for Manchester United in 2003 -- though it would definitely have to be displayed with a "may cause seizures" warning.