Woman who 'used to be Joan of Arc' gets alien assurance Palace will stay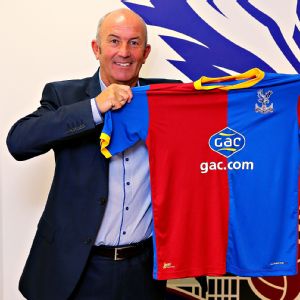 Clive Rose/Getty ImagesTony Pulis has a big job ahead of him at Crystal Palace, but one London woman has extraterrestrial assurance Palace will avoid the drop.
It would appear that new Crystal Palace manager Tony Pulis spoke too soon when, upon taking the job, he claimed "everyone expects us to get relegated." There is at least one person out there who is adamant the Eagles can beat the drop this season.

We'll let you decide whether or not the fact she claims to have received her information from aliens undermines her judgment in any way.

Stephany Cohen, a "spiritual healer" from Bromley, London, who claims to be in constant contact with "gray aliens, Cat People and half-alien, half-reptile Reptilians," has assured Pulis that his side has nothing to fear after receiving an extraterrestrial tip from the "Grays."

Speaking to the News Shopper newspaper, Cohen said:

"[Palace] are being positive. Pulis has got a very good work ethic. His forte is defensive. Now what he needs to do is help the team by keeping clean sheets as much as possible between now and May.

"They need a good team spirit, a good work ethic and good defensive tactics from the manager. If they stick to that, they will stay up.

"It will be hard work, but it will pay off."

To be fair to the lady: As punditry goes, that's not too shabby.

However, without trying to further undermine Cohen's prediction, we feel we're at liberty to add that she also claims that she "used to be Joan of Arc" after her spirit guide showed her memories from a previous life.

It's not like this is the first time that her Reptilian friends have given Cohen messages to pass on to Premier League managers either, with Arsene Wenger being told in March to "get rid of a whole lot of people and bring in a stronger squad -- especially in the defence."

Again, hard to argue. These space lizards definitely know their stuff.